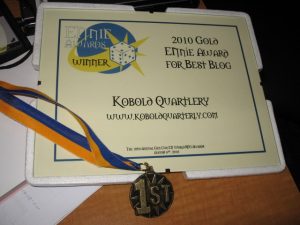 I was pleasantly surprised when I heard that we won the Gold ENnie for Best Blog, yesterday, and I wish I could have been at Gen Con this year for it. I mean, we always try to put the best content forward that we can, but the competition has gotten so amazing! Gnome Stew, Critical Hits, NewbieDM.com, and One Geek to Another—these are all awesome blogs! Congratulations to Gnome Stew for taking the silver ENnie and the others for being  nominated. I look forward to another year with all of you: we keep each other strong. So, same nominee list, same time next year? It's a date!
We are very proud of the Gold ENnie that KoboldQuarterly.com has won. It means we're doing something right! Thank you for voting for us. Thank you for following the blog, posting comments, and hanging out with us. Thank you for contributing content. We couldn't be here without wonderful fans and contributors like you! Stay tuned for another wonderful year.
And we've got big plans for the coming year already! The King of the Monsters 2 contest is already well underway (with only 1 week left, get your entries in soon!); we'll have continuing coverage of the blossoming patron projects Frozen Empires,  Streets of Zobeck, and The Lost City; we'll be continuing many great columns, such as Richard Pett's "Your Whispering Homunculus"; and we'll be presenting more than a few surprises! Stick around for all the great content you expect from KoboldQuarterly.com for Pathfinder Roleplaying Game and 4th Edition.