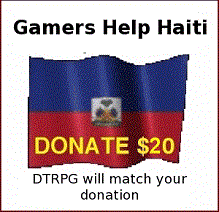 Gamers want to help Haiti and the Dominican Republic in their hour of need, and DriveThruRPG is helping to make this happen with a giant pdf bundle filled to the brim with amazing content donated by a ton of RPG publishers.
With a simple donation of $20, every penny of which goes to Doctors Without Borders to support their relief efforts in Haiti and the Dominican Republic, this collection of more than $1,000 worth of products will be yours.
To help, Open Design has donated Kobold Quarterly +11 to this amazing bundle. Please, consider donating $20 to Gamers Help Haiti. Help bring relief to someone who really needs it.