(Photos by Wade Rockett)
Gen Con is a great place to meet your fellow gamers and play tricks on them, or at least make them smile and laugh. A popular booth can get a steady stream of visitors, and that's great. But let's face it, many game designers, editors, and artists are loners in their freelance work, and that makes us… a little weird. Suddenly putting us face to face with The Public can get interesting.
Here's some of the pranks and fun at the kobold booth that keeps us entertained, and that makes guests laugh as well: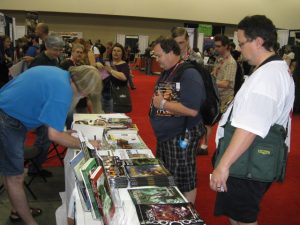 1) The Spinny Wheel of Freebies: If you buy $20 of anything at the Kobold Booth #2439, you can spin our wheel and win up to another $20 of prizes. These range from awesome dice sets by Q-Workshop to breath mints, dire weasel feeding privileges and kobold serenades (see below.) Some children and folks who want something for nothing ask, "Can I spin for free?," and the answer is usually, "No, but look at these fine wares, we're practically giving them away".
Making exceptions to this is one of the great pleasures of a booth monkey. A little boy of 5 or so wanted to spin for free, and my answer to him was "Sure, kid, go ahead." He won a kobold song, and a dire weasel feeding, and a postcard after three spins and seemed fairly content. Yes, three spins, because he kept trying till his mother said "Enough spinning". Sometimes life is more fun when you're a kid. This made me as happy as him, I suspect…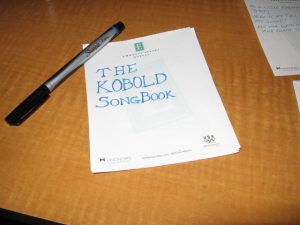 2) The Kobold Songbook: You may have heard of great jazz songbooks or songbooks of American music. This isn't that. Customers who spin the Wheel of Freebies and get a kobold serenade discover that kobolds sing some very silly songs indeed.
So far, we're doing pretty well with them. I can't believe we pulled off a rousing chorus of "He's a Kobold and He's All Right/He Sleeps All Day And He Works All Night" successfully. I've never been a filker, or filkster, or what have you, but entertaining visitors with kobold music has proven to be one of the high points of the show.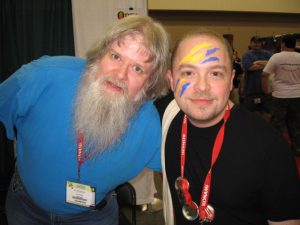 3) Goofy Fun: One of the first ideas Chief Cryptoanalyst Wade Rockett had for this year's Gen Con was an event called, "Ed Greenwood Will Paint Your Face." Having a best-selling author paint faces at our booth really tickled our fancy, and Ed was a great sport about it and agreed.
The results were better than we could have imagined with much laughter and teasing of Ed's victims. Among those who got the brush were Justine the Kobold Assistant and Matt James of Loremaster.org. Stylish look for the Friday night bar scene, sez we!
Also, we now have autographed copies of the books and magazines that Mr. Greenwood has written for KQ, and we have created an event that Gen Con has never seen before. People in the aisles were doing double-takes when they realized what was going on.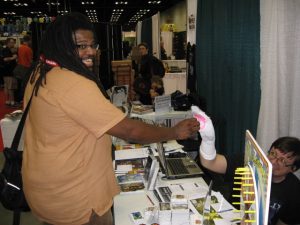 4) Visitors Who Get It: We love customers and visitors who play along. Perhaps the best are those like Quinn "Gamefiend" Murphy of the 4E At-Will blog, who participated in one of the dangerous, deadly, invariably difficult Albino Dire Weasel feedings that occasionally happen at the booth. We congratulate Mr.Murphy on his courage, resolution, and bravado. The kobolds are curious whether he would consider permanent employment as the new Dire Weasel Keeper?
There will be more tomfoolery tomorrow, and many laughs at our own expense. We hope some of you join us as well for perhaps a second item of news later in the day.