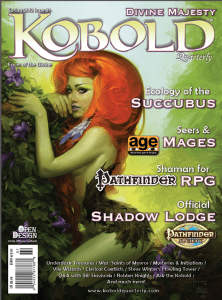 Gods and demons are a vital part of the swords and sorcery genre – as are their followers. Conan battles evil priests while swearing, "By Crom!" Elric surges into combat promising blood and souls for his divine patron Arioch. Fafhrd and the Gray Mouser often find themselves pawns in the schemes of Nehwon's conniving gods.
Kobold Quarterly #21 delves into the roles played by the divine in your campaign, featuring David "Zeb" Cook on using mystery cults in your game, Tim and Eileen Connors on soul-shredding clerical dilemmas, Marc Radle's new shaman base class for Pathfinder RPG, and an ecology of the succubus with new feats, powers and traits for D&D.
KQ #21 also features official Pathfinder Society content, robber knights and vile wizards, new Zobeck and Midgard articles, and alchemists, druids, illusions, and seers for the AGE System – and a sultry pinup cover by Kieran Yanner!
The complete contents are after the jump:
The Shaman by Marc Radle
Daughters of Lilith by Sersa Victory
It's a Mystery by David "Zeb" Cook
Clerical Conflicts by Tim & Eileen Connors
Divine Archetypes by Stefen Styrsky
A Background in Magic by Rodrigo Garcia Carmona
Nine Treasures of Deep Midgard by Nicholas Milasich
Saints of Mavros by Christina Stiles
The Scriveners of Allain by Brian A. Liberge
White Tongue, Black Heart by David Schwartz
The Shadow Lodge Insurgency by Nicholas Gray
Why No Monotheism? by Steve Winter
Fun Happens Here: A Conversation with Bill Slavicsek by Jeremy L. C. Jones
Ask the Kobold by Skip Williams
Free City of Zobeck: Deadly Tolls and Honest Challenges by Wolfgang Baur
d20 Monkey by Brian Patterson
10'x 10′ Toon by Stan!
Pick up Kobold Quarterly #21 in print or in PDF at the Kobold Store!