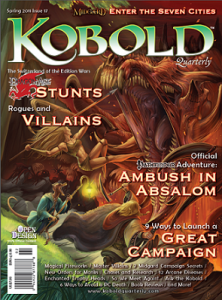 Kobold Quarterly issue #17 is out, and the kobolds are feeling wicked. This issue celebrates the villains, getting right into the meat of things with an article of special arch-nemesis abilities for recurring villains and the PCs who hate them. As they clash again and again, these abilities gain more potent – ultimately legendary – power.
The issue also adapts classic confidence games and swindles to a fantasy setting. Rogues with itchy fingers and active minds will find new tricks such as "The Bottle Drop", "The Priceless Violin" and even some simple tavern bets. A must-read for any rogue!
If you haven't already sunk low enough, the sewer-y "Ambush in Absalom" awaits — Kobold Quarterly's first official adventure for Paizo's Pathfinder Society.
Kobold Quarterly #17 also features sorcerous plagues, chase and research scenes in the Dragon Age RPG, an interview with writer and designer Jeff Tidball, and more. Available now in print and PDF.
A further list of features, columns, and articles after the jump:

Our first official adventure for Paizo's Pathfinder Society, a little piece called "Ambush in Absalom".
"So We Meet Again!" — Special adversary abilities for recurring villains and the PCs who hate them. These adversary mechanics give recurring villains and PCs the ability to uniquely track, thwart and escape each another over many adventures.
"The Right Way to Do Wrong" — Open Design author Brandon Hodge presents classic swindles for your rogue to play. Say, would you watch this violin for a second?
"Scourges of Vael Turog" — Feeling under the weather this spring? It might have something to do with the sorcerous, arcane diseases that will really bring on the sweats for your PCs! It actually gave our Gearforged Copywriter pneumonia. True story.
"Know Why You Play" and "Feats of Stunning Might and Brilliance" — Jeff Tidball gives us both an insightful interview and the complete scoop on the Dragon Age RPG stunt mechanic, and how to adapt it to D&D or Pathfinder.
Three great articles on new magic items: one each on magical fireworks, magic items for monks, and magical foods! Elf Needs Food, Badly!
Plus monster advice from Monte Cook, details of the Midgard campaign setting, cartoons, maps, and much, much more!
So tell the world, Kobold Quarterly #17 is available in print and in PDF, and it's replete with moustache-twirling villainy! What are you most looking forward to reading?