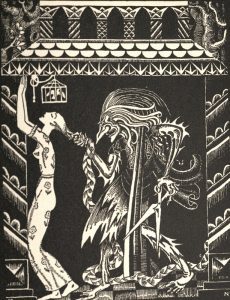 The story of Rapunzel is one of the better known Grimm tales; many consider it to be one of the major classic fairy tale romances. The story is simple and easy to tell, and this is partly because the majority of the action takes place in two locations. The tale starts in an enchantress's garden and later moves to the famous tower, both of which can be important and memorable locations in a game because they require a character to physically interact with them.
The garden isn't a place often seen in RPGs, but they were far more commonplace in medieval times and thus should at least be part of the background of towns, farms, and even castles. Here, seasonal foods were grown to provide a bit of variety, and it wouldn't be uncommon for specialists to have unusual gardens. Monasteries would also have gardens, as would universities and noble estates, each one reflecting the desires and wealth of the owners.
In Rapunzel, the garden is owned by Madame Gothel, a powerful enchantress that the world greatly fears because of her power. All manner of plants and flowers fill her garden, and it is surrounded by a great wall. Some might think, though the story doesn't say as much, that very special, rare, and possibly magic plants grow in this garden. Rampion, the plant mentioned in the tale, is a flower that can be put into a salad, but the rampion the husband and wife steal must have been very special because they willingly trade a child for it. Considering that it came from a magical garden, this trade may have been a fair one, though the husband and wife may not have had anything else to trade for it anyway.
In a game, a combat within a garden could become an interesting encounter if the PCs wish to avoid damaging the plants. Movement would be limited by difficult terrain, and characters standing in a plot and fighting would need to take a -2 penalty, or similar hindrance, to attacks. If they wish to risk damaging the plants, they can move and attack normally but have a 25 percent chance of ruining that plot and any plants within it for that round. If they were sent to retrieve a particular plant from the garden, they need to be careful not to damage too much of the garden, otherwise they could end up failing that quest.
As for the tower, groups of varying power levels will have different possible ways of entering it. One detail that could remain the same is a single wide window near the top being the only point of entry. This would focus the party toward a narrow and easily defended location. Creatures standing in the window can be bull rushed off and into the briar patch below, magic can be used to negate teleportation or even redirect it, and ropes can be quickly cut. Funneling the players toward one point can create an interesting siege encounter for a tower like this.
At the end of the story, Rapunzel's prince is thrown from the tower, blinded by the briars, and left wandering for years until he found his love once again. The fall wasn't so bad as to kill him, and the encounters suggested here shouldn't be so challenging as to kill off the party. Use combat encounter locations to push the party to think about how they will approach the enemy, what resources to use, and if they need to retreat to further prepare.
You can read Rapunzel online. How would you use these encounter locations in your game?