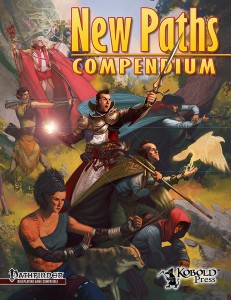 A few days ago, we shared with you that New Paths Compendium was coming out for Hero Lab, and now the files are available! In total, you can expect to see seven new and expanded classes from Level 1 to 20, plus the following:
28 new archetypes for monks, ninjas, gunslingers, barbarians, fighters, clerics, and all seven New Paths Compendium classes
20 new spells for druids, rangers, shamans, and other classes
Almost 100 new feats for new and existing classes
And more!
Just over half of the content is available for your use RIGHT NOW for only $14.99, and you should see the rest as a part of the late September Hero Lab Pathfinder update. If you purchase New Paths Compendium today, the new content will be available as a free update once added.
Be sure to check out our New Paths Compendium at the Kobold Press store, too!