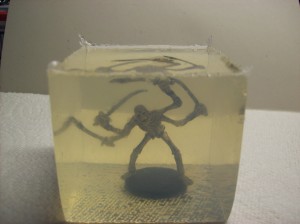 Recently, I was bidding on an iconic monster mini on eBay when I came up with a homebrew alternative:
Ingredients
Knox gelatin
Cooking oil spray
Square mold
Victim miniature
Directions
Coat the inside of the mold lightly with cooking oil spray. This will aid in the extraction of the Monster later on. Add the gelatin to very hot water and mix thoroughly until the gelatin is completely dissolved. Insert the victim miniature and chill in the fridge for at least 3 hours. When it has set, gently shake out of the mold and clean the vegetable oil off with a paper towel…
Now, this mini won't last forever, but it should last for an entire gaming session.