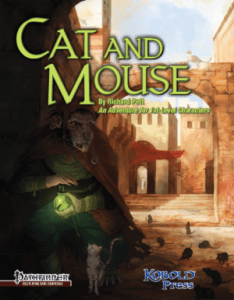 So you've been investing in some of Kobold Press's many good adventures for Pathfinder, but your players want to try out the latest edition of Dungeons & Dragons. No problem—I've got you covered. I've recently converted Richard Pett's Cat and Mouse to fifth edition. In doing so, I've been reminded of a few things that will help you when converting any of your Pathfinder-compatible adventures.
The Value of Art
First, there is often a desire to apply a specific conversion factor to everything you do. "A Pathfinder value of X is equal to Y in fifth edition." It's not going to work that way. A conversion is going to involve a lot of art and guesswork. If you love yourself some math, don't worry! There's going to be some of that too, but don't sell your gut short. If you look at a monster in the adventure and it is just brutal in combat and then you pull the same monster from 5e and it's actually not that tough, don't stop there. The adventure assumes the fight is brutal, which means you need to do one of two things. Either you add more monsters, or you level it up. You started out relying on your art, but now you do some math so the challenge remains the same. In the end, it's your game and the goal is to make sure your players are having fun.
Let's look at some specifics.
It's Not as Difficult
In fifth edition, skill checks are not as difficult as they are in Pathfinder. Assuming your players have a wide variety of characters, one is probably good at any particular skill. For example, in Pathfinder a 1st-level fighter probably has an 18 Strength and is trained in Climb. That means that character is adding +8 to attempt Climb checks. So if you put a wall that you want one of the characters to climb with some difficulty, you might make it DC 15 to get to the top, or even DC 20 if you want it to be really hard.
The characters at your fifth edition table won't be adding as much—in general, about half that with roughly a +4 for a stat of 15 and maybe a proficiency bonus. That means that athletic characters only get up that DC 15 wall half the time. It's no longer as likely that someone will make it. The difference gets even more profound as character level increases.
This means you need to think about how hard you intended something to be and lower the difficulty accordingly, remembering that you're likely going to have to decrease things by about 5 if you want the chance of success remain about the same.
What's Inside Its Skin?
Okay, so now you're looking at some combats. You don't want to have to change the story too much, but sometimes fifth edition might not have the same monster or class. In Cat and Mouse, this happened several times, but let's talks about two of them.
Experts: A number of times in the adventure, your characters might encounter someone who has expert levels that might have cause to come to blows. There is no expert in fifth edition. What can we do? Well in Pathfinder, the main difference between an expert and a commoner is that the expert has a lot of (usually) noncombat skills. Basically, he or she is a commoner who knows about something that isn't going to affect the fight. So what we can do is use the fifth edition stat block for the commoner, which is present in the rules, and then just note that they know about tailoring, cooking, or whatever it is the adventure needs them to be an expert on. It won't change the combat, and it requires only a little re-flavoring of the skin encasing the stat block.
You can also use this technique more dramatically. Need a fire-breathing, flying lion? No problem! Grab the fifth edition stats for a hell hound, say its bite is a claw, give it a fly speed, and tell your players that it looks like a lion! They will never know the difference as you send it out to roast their characters alive.
Catfolk: So what happens when there isn't something that translates very closely? Here's that art and science mixing I talked about earlier. Start by converting directly as much as you can; remembering to adjust for fifth edition's lower numbers. I like to start with stats. Once you've done that, adjust hit points and Armor Class for the challenge rating you are shooting for. This is the math you'll need to do, and the Dungeon Master's Guide gives you some good advice on how to do it. That leaves unique special abilities. Again, the Dungeon Master's Guide has some suggestions here as well. After adding in these abilities, adjust the CR accordingly. For catfolk, it was Sprint and Cat's Luck. You might need to go back and change the creature's hit points, Armor Class, or damage output again once you add them to keep it where you want.
In the end, there is a lot of math if you attempt this sort of conversion, but you might still need some art if you want to create a new ability. Look at the abilities that exist. Find one that is similar in power and effect, and cost it the same.
How Many Is Too Many?
The last thing you need to do is look at how many monsters there are. Because fifth edition's bounded accuracy makes foes a bigger threat over a larger spread of levels, it means rolling more attacks is a larger threat than in Pathfinder, regardless of the CR of those foes. So perhaps your party encounters a fight against six kobolds. That's a challenge, but not a very difficult one for Pathfinder characters. It's a much more significant threat to fifth edition characters, and, accordingly, fifth edition applies an adjustment for increasing the number of foes. Checking the math and assuming you want to keep the overall difficulty the same, you need to more than halve the number of foes. This is just a little math, but you can manage that thanks to the tables provided in fifth edition.
There are a few more things to watch for—such as adjustments to traps, spells, or magic items—but those are less common and often more intuitive than the above. In general, these are the big ones: lower your DCs, re-skin or re-build your monsters to still do the same things you need them to do in combat, and decrease the number of foes. If you do that with the proper balance of art and science, you'll be fine… and your players will have fun!