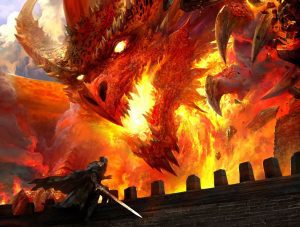 Meatspray. That is the nickname my fighter earned within the first hour of playtesting D&D Next. Granted, as a player I naturally lean toward exploiting the rules—ever play Street Fighter 2 and get pinned in the corner by Ken or Ryu and then subsequently kicked over and over again into oblivion? Yeah, I am that guy. I opened the playtest rules, picked the biggest and baddest weapon, and looked up all the tactics that I could use to maximize my damage. Then I got down to business killing some monsters. Judging by my character's nickname, I was successful. From this you should glean two things: one, this game moves blazingly fast because I had a reputation within an hour, and two, the fighter is definitely not underpowered. Ask the minotaur he nearly took down in one blow at level 1. (The natural 20 had a little to do with that as well, so he can't take all the credit.)
How old-school is it?
For those worried that this game will be a throwback to the Precambrian editions of Dungeons & Dragons, ask yourself how useful a level 1 fighter would have been against a minotaur. And the wizard . . . you know he was able to participate, magically, in every combat encounter we had. No 1st Edition wizard, er, magic user, could say that. My old gaming group used to keep a stack of comic books handy to entertain the magic user after she cast her lone magic missile. Fortunately this will not be required for D&D Next. Also gone are the days of narcoleptic low-level adventurers. Resting occurs at logical times—not after every encounter. My character spent far more time knocking creatures to the ground than sleeping on it.
What about the other stuff?
Well, there is plenty of room to be creative. My character was going to try to intimidate a cavern full of goblins by donning the skin of a cave bear, lighting it aflame, and charging into their midst. Unfortunately, the rest of my adventuring party has an odd attachment to staying alive. Skills are broader and less delineated. So, keep in mind that D&D Next is still D&D Fuzzy edition with the gurus at Hasbro slowly focusing in on the final game. How skills will ultimately play out has yet to be seen. This fuzziness complements my style of play, in which every action and every aspect of my character does not need to be quantified, but not everyone will be comfortable in this zone. My advice, if you find a gray area, is to dive into it and see how you could make it more fun.
"I want my powers!"
I see that a lot from 4E players in the various discussions, particularly regarding the fighter. I will say this: when Meatspray leveled up for the first time, he got something similar to a per encounter power that was cleverly engineered into the system. Maybe too clever by half, because you have to be pretty sharp to catch the mechanic and its similarities to 4E, but I suspect as options are expanded, so too will grow the choices for the fighter. Regardless, now Meatspray can be extra vicious a few times per day and that makes me happy.
Sneaky things and priestly things?
So, the Caves of Chaos might not have been the best venue for our rogue to show off her lockpicking skills. Why bugbears don't build more locked doors into their natural cavern networks we will never know. She has been, however, a very effective and stealthy scout, and we had the opportunity to try the rules for surprise attacks a few times (streamlined and easy). The caverns have also been, thus far, undead-free, so I have yet to see how our cleric's turning ability works. I suspect given our latest destination, I won't be left waiting much longer. Of all the classes, the cleric feels the most familiar—almost too familiar. I am eagerly awaiting details on how the cleric's abilities evolve as he or she gains levels. In the meantime, I will continue to be supremely nice to the cleric. I need access to his healing spells and nifty healing staff, since Meatspray is usually standing in front getting bludgeoned, chopped, stabbed, and pierced.
So, overall?
Fun, fast, rough, and clever. Those words describe both the playtest and the rules themselves. I am limited in what I can discuss of my early playtest experience, but I hope you got an idea of the flavor of the game. Classic D&D elements have been restored, but they feel very different in play. It was fun to stock up on crowbars, caltrops, and flasks of oil for our first delve into darkness. Discovering our first cache of magic items was thrilling. How the game scales from the first few levels, I think, will be critical to its success. Can Hasbro keep it fast while giving Meatspray more abilities and options? I certainly hope so. Until then, I will just have to keep rushing headlong into owlbears so that I earn enough XP to find out.