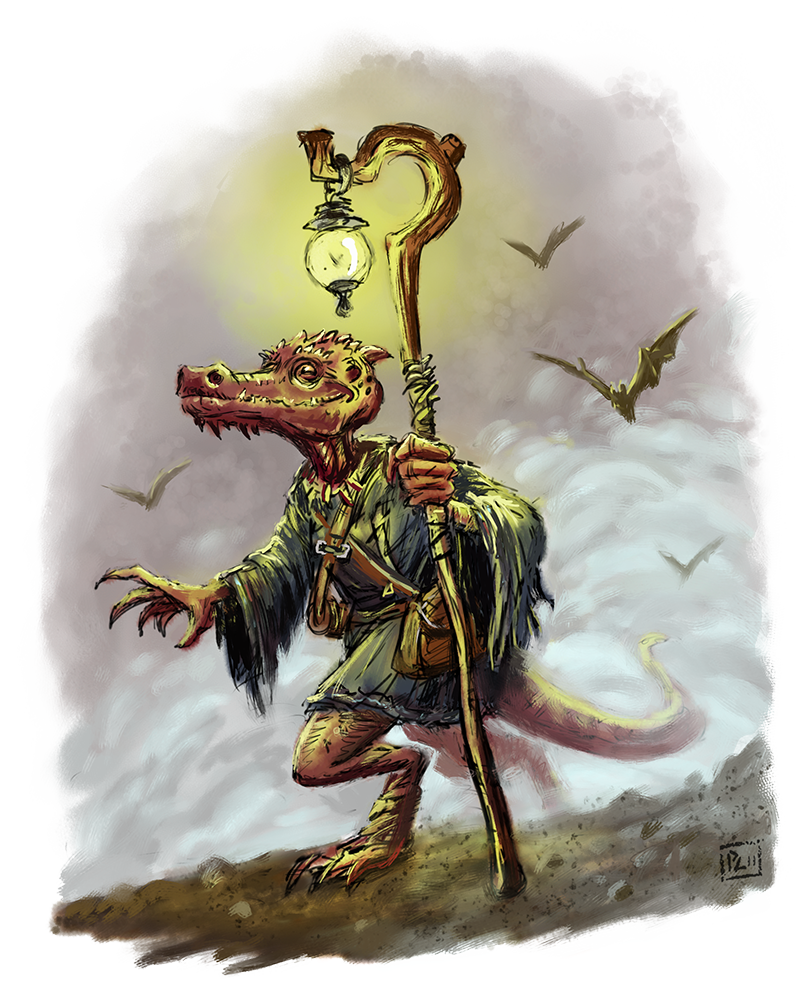 You notice a strangely colored, faintly glowing sheet of parchment—perhaps, you think, a flyer for the upcoming talent show/open-mic night at the local wizard's college—blowing ominously across the sunset-lit cobblestone street, dancing eerily in the chill, unearthly wind.
Which is especially weird since you're currently in a dungeon.
And it's daytime.
The very instant you notice it, the menacing sheet of sparkle-paper seems somehow almost magnetically drawn to you. Moments later, the fluttering sheet begins slapping against your shins like a hungry kitten who thinks your pockets are maybe—just MAYBE—stuffed full of ham and two-day-old salmon.
Against all good judgment, you pick up the mysterious sheet of paper and glance briefly at its unholy and sanity-shattering bargains…
___
BIG VAMLENTINE'S DAY SALE!![exclamation point]!
10% off all purchases that could arguably be used as a romantic(?) gift
Wacky Khk'ryl'knar's Delightful House of Wonderment & Delight Emporium
(formerly Omnicidal Khk'ryl'knar's Dungeon of Infinite Torso-Stabbings)
(formerly Sexy Khk'ryl'knar's Hot Pants Cosplay Lingerie Boutique for Amorous & Not-Too-Particularly Discerning Humanoids)
(formerly –ion Looping of Horror Khk'ryl'knar's Time-Shattered Tentacle-Dimens–)
(formerly Tasty Colonel Khk'ryl'knar's Shrieking Labyrinth of Fried Butter & Salt & Gravy & Cheese-Derived "Nutrition" Product [plus also Sugar])
Located next to the Stanch & Quaff 24-Hour Healing Depot & Truck Stop, behind the Rabid Displacement Beast All-Goblin Burlesque Revue, across from the La Quinta, Exit 17 on Rural Route 8 (turn left)
[RULES: Any character holding a copy of this advertisement who turns left immediately finds themselves within the extradimensional space of Wacky Khk'ryl'knar's Delightful House of Wonderment & Delight Emporium. Exiting the shop instantly returns the character to their previous space. Destroying the advertisement and being a jerk about it (roll 1d6): 1–3, returns the character to their previous space; 4–5, shunts the character to a random spot on their home plane; 6, shunts the character to a random spot NOT on their home plane and possibly not even the same game system.]
___
A Word from Our Founder:
Here at Wacky Khk'ryl'knar's Delightful House of Wonderment & Delight Emporium, we pride ourselves on delivering only the highest-quality items-of-esoterica-and-mystery to you, our loyal customer… and at the very best possible price.
How do we do it, you ask? Well, it's easy: my hardworking, dedicated staff of loyal minions is always out there, day and night, murdering people and taking their stuff.
And we pass that savings on to YOU!
We're a big, family-owned business, specifically because I—totally on accident!—recently acquired what turned out to be an orphanage (and also a pretty cool haunted water park, though that was a totally separate thing, but I'll tell you this though: the kids LOVE IT).
Funny story, actually, but the point is that we're expanding our operations… into YOUR dimension! Look for our ads every week wherever you normally look for ads (in a basement?).
We're proud to have been in business for over a gajillion-thousand-hundred years, with nearly a dozen satisfied customers.
And we want you to be our next one… or my name isn't Wacky Khk'ryl'knar!
—Omnicidal Khk'ryl'knar,
the Sentient Floating Purple Ball
of Pure Concentrated Evil
Made Manifest in Three Dimensions
as a Physical Somewhat Jelly-Like Substance
"We slash our competitors' prices, but not actually—just take out the part where I said prices. See, 'cause it's just the competitors that we slash, specifically, not their—oh, you get it. Wait, crap, that reminds me, speaking of, because the best possible price is, in most instances, the very LOWEST one. And that's our motto!"
___
THIS WEEK ONLY!
Pants of Many Pants
This magical set of garish, hideous trousers holds an infinite number of slightly different garish, hideous trousers within its depthless, musty enchanted pockets. As an action, the wearer may draw a new set of magic trousers from a pocket of the pants of many pants. These new magic trousers are also treated as pants of many pants. Drawing a new set of magic trousers from the pants of many pants instantly disintegrates the pants of many pants currently worn by the wearer.
Price: 2 gp
Spatula of Proficiently Flipping Stuff Real Good
This mystical spatula grants the wielder advantage on all rolls made to flip something, like… I don't know. A pancake. Eggs, maybe? A… a toaster strudel. If you wanted to fry that up in a pan. Or something. For reasons.
Price: 1 gp [OOPS NO MAKE THAT 100,000 GP I JUST FIGURED OUT THAT IT ALSO WORKS ON ACROBATICS CHECKS THAT INVOLVE A BACKFLIP, WHICH IS NOW ALL OF THEM YA'LL CAN CALL ME "BACKFLIP McGEE THE AWESOME BACKFLIPPIN' BACKFLIPPER" FROM NOW ON LOL WHEEE BACKFLIPS]
Journal of Xhathrax Eon-Hand: Chrono-Conqueror, Master of Millenniums, Subjugator of All Spacetime
This magical tome is infinitely long, which comes in handy if you need scratch-paper or a quick tissue handy. The book details the life of some guy named Xhathrax Eon-Hand, a time mage so powerful that he accidentally paradoxed himself out of existence way back at the dawn of reality and is now… never been will've have to existed-ing?
Price: 3 gp [discounted from BEYOND-PRICELESS 'cause the annotated complete history of the universe recorded in here is just, like, hilariously wrong]
VAMLENSTINE'S DAY BARGAINS
Grab bag of expired hearts: 25 gp
Crystal ball that only scries on people who are watching romantic comedies: 13 gp
Amulet that makes everything taste like those chalky candy hearts: 2 gp
Potion that lets you remove the amulet that makes everything taste like those chalky candy heart: 1,000 gp
Hers-and-hers-alone set of obsidian sacrificial daggers (blessed by a priestess of the Spider-Demon Goddess and signed, "To my loveliest & most-murderous fan"): 7,659 gp & the severed head of a surface elf
Box full of ninjas mislabeled as "Box of Chocolates": 137 gp
Box of chocolates (purposefully?) mislabeled as "Box Full of Ninjas": 12 gp
Unlabeled box we're legitimately too nervous to open: 3 gp
Flesh golem dressed as cupid: free [this ungrateful flesh golem does not know how to use his cute little bow & arrow because he refuses to apply himself, he doesn't like his adorable wings that i spent all weekend making, and also he apparently just wants to be left alone to endlessly scroll his stupid twitter. preventing him from scrolling his dumb twitter that no one else even cares about sends him into a big childish berserk frenzy that doesn't end until every object in sight has been punched in half at least once like the big jerk that he is]
Staff of staffing (just a staff, turns out we got scammed): 1,437 gp [because i am not turning a loss on this stupid thing]
A cool wand that shoots heart-shaped bubbles that are the shape of sphere-shaped hearts (only shoots bubbles when you blow on it): 657 gp
Skateboard actually used by Tony Hawk the one time he got transported into a haunted copy of Tony Hawk's Pro Skater 2 for the original Playstation: 3,460 gp
Tanuki suit also used by Tony Hawk, specifically the time when—for unrelated reasons—he got transported into a haunted copy of Super Mario Bros. 3 for the NES: 9,478 gp
Sandwich: 1 gp
Heart-shaped sandwich: 1 gp
Sandwich-shaped heart: 1 gp
Mystical heart of all sandwiches: 10,000 gp
The one ring: 1,000,000,000,000,000,0—[price continues below, see pages 13–27]
Potion of Super Double Vaelmemtime's: free with any purchase!
[EDITOR: INSERT HEARTS AND HEART EMOJIS HERE; I WILL SEND YOU A TEXT FILE WITH ALL THE CLIP ART I STOLE FROM A RUSSIAN DATING WEBSITE PLEASE PUT IT HERE]