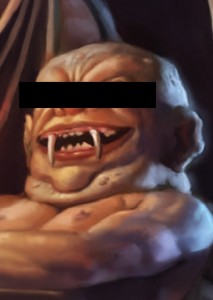 Greetings, my army of Kobold fans! It is I, Wolfgang Baur.
As you know, I am a normal human like you and not under magical control of any kind. Therefore you will not be suspicious when I tell you my glorious news about upcoming improvements to Kobold Quarterly and Open Design.
First, I am changing the name of the magazine to Homunculus Quarterly. Kobolds have many admirable qualities, none of which come to mind at the moment. But we can all agree that there is no creature as attractive, intelligent and powerful as a well-made homunculus!
You can also expect to see more homunculus-focused content in the magazine: how to use them in your "roles-playing games" with the respect they deserve, but also articles written for homunculi. Where should a homunculus stay while on vacation? What salves are best at healing the welts inflicted by Master's beatings? What are some helpful tips when formulating your elaborate plans for revenge? These are just a few of the many questions HQ will answer.
I will also command my designers to produce grand new editions of your favorite Open Design products. Look forward to such titles as Homunculi of the Ironcrags, A Homunculus's Journey to the West, and Empire of the Homunculi. The Midgard worldbook requires major changes, which will get underway as soon as I've seized control of Brandon Hodge and Jeff Grubb.
Contacted them, I mean! I have no plans to control their minds!
And now, I must withdraw. Please ignore the spastic twitch I seem to have suddenly developed, and buy more Kobold products! I mean, Homunculus products! Farewell!