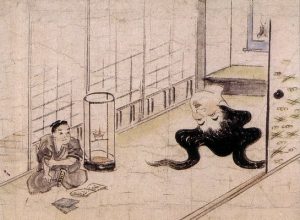 The best kind of trap is a trap that can hide in plain sight, perhaps even be on display:
Upon a blackwood table stands a glass cylinder with something inside. Two everburning torches set behind the cylinder cause the object contained in the cylinder to cast a long shadow across the room. The shadow twists and turns as the object in the cylinder moves.
If the PCs come closer.
The glass cylinder, filled with a clear fluid, holds the severed, bobbing head of a female aasimar. A bronze plaque before the cylinder announces that the occupant is "Amara Truthspeaker."
Examining the cylinder closely…
The head is transfixed in a slightly horrified expression; her mouth is sewn shut with silver wire, giving her an odd smile.
The glass cylinder has 5 hp. Detect magic reveals that strong evocation magic leaks from the head's mouth. If the silver wire is cut, Amara will say her final words.
Final Words Trap CR 10
Type magic; Perception DC 32; Disable Device DC 32
Trigger special (cutting of the silver wire); Reset none
Effect spell effect (blasphemy, DC 20 Will save negates); spell effect (dictum, DC 20 Will save negates); multiple target (all creatures in a 40-ft.-radius spread)
The Last Puzzle Trap CR 10
An engraved wooden frame and a small box holding a hundred puzzle pieces lie on a small table between two comfortable chairs.
Type magic; Perception DC 34; Disable Device DC 34
Trigger special (completing the puzzle); Reset none
Effect spell effect (heightened daylight); spell effect (symbol of death, DC 23 Fortitude save negates); multiple target (all creatures who look at the rune within 60 ft.)
The wooden frame already contains some connected puzzle pieces. Both the frame and puzzle pieces radiate magic—the heightened daylight spell masking the symbol of death. It takes a DC 30 Knowledge (arcane) check to discover the necromancy aura. Completing the puzzle requires two consecutive successes on DC 20 Intelligence checks. Each check takes 10 minutes.
If the puzzle is completed the heightened daylight spell triggers first and then the puzzle forms a symbol of death.
(This post is Product Identity.)