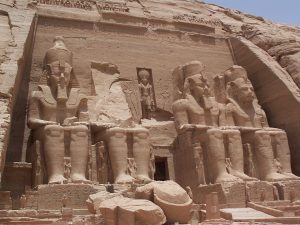 When you venture into the Southlands, you want the right musical cues to accompany your intrepid player characters. Here's a short list of epic music, much of it soundtracks from motion pictures with similar themes, folk music appropriate to the region, and a few eclectic choices that will keep your magic carpet aloft.
Snakes, Why'd It Have to Be Snakes
Let's begin with what Wolfgang Baur said was an inspiration for the setting—this is the RPG made for Indiana Jones.
A caveat: The problem with using John Williams scores is that they are so well known and iconic. Play the "Raiders March" from Raiders of the Lost Ark and the game stops faster than if someone makes a Monty Python joke.
But that original Raiders soundtrack, which the lucky ones have on vinyl, has two tracks you might sneak in without breaking the mood. Unfortunately, iTunes doesn't carry the original soundtrack. But The Indiana Jones Trilogy by The City of Prague Philharmonic Orchestra does a credible rendition of "The Basket Game" if the PCs are engaged in a frantic search. For exploration in deep forgotten places, switch on "The Well of Souls" from The Indy Jones Story by The Global Stage Orchestra.
Markets of Marrakesh
Visit the souks and bazaars in the shadow of the Atlas Mountains. You can't go wrong with "Derbuka" a track on Karen Azedia's Morocco: Southern Music. In fact, the entire album is a treasure of good mood setting background music for adventurers as they haggle with merchants of exotic wares.
If you're still in the mood to sample north African folk music, try the similarly veined Relaxations D'ailleurs: Maroc and Arabian Delight: Music from Egypt, Libya, Tunisia and Morocco, especially the track "Rak el Seyoff (Sword Dance)."
Pyramids and Power
"Sandcastles" from Alan Silvestri's The Mummy Returns is a short sound cue, perfect for the arrival of PCs into the lands of the pharaohs. You can't go wrong with any of the music from the Mummy movie trilogy. "Camel Race" is great chase music and "The Caravan" evokes a land of sand and mystery; both are by Jerry Goldsmith from The Mummy.
Before we leave Egypt, let's check in with "Nile at Night" from Hercules: The Legendary Journeys, Vol. 4 by Joseph LoDuca, now known as the Spartacus TV series composer. Slow things down with his sultry "Honey and Wine" which appears on Xena: Warrior Princess: Lyre, Lyre Hearts on Fire.
River Journeys
Why risk your neck riding a camel when waterways abound? You'll leave in good spirits when you play "Boat Montage" by Clint Mansell from Sahara. If the boat should be attacked, defend it vigorously with "Hold Tight!"
When the river widens, enjoy the scenery with "Spirit of Africa" by Goldsmith from Congo. Take caution when you pull the boat ashore, playing the haunting "Mama Ararira" by Afro Celt Sound System and Dorothee Munyaneza from Hotel Rawanda.
Not all river encounters end poorly. Some are a cause for celebration. "Party! Party! Party!" from Madagascar 2 fits the bill.
Colonial Themes
The conflict of colonialism is captured by John Barry in his hallmark soundtrack for Zulu. "First Zulu Appearance and Assault" is a grabber that melds cultures in conflict.
Capture the richness of the tribal landscape with Traditional Zulu Music, Songs of King Shaka, especially the lead track "Wena Wendlovu."
Barry brings his soaring melodies back into play with a bird's eye view of the landscape in "Flying Over Africa" from Out of Africa.
But that conflict is surely sharpened again with Goldsmith's "The Wind and the Lion" (suite) from the film of the same name.
Journey to a Fortress City
Loreena McKennitt is a practiced musician, songtress, and traveler. Join her forays across north Africa. Nights from the Alhambra provide both "Caravanserai" and "Santiago." Mark your arrival with "Beneath a Phrygian Sky" from An Ancient Muse.
Rich fortress cities serve as protection for honest travelers. Be sure to abide by local customs while there. Pass beneath the gates of the city with Harry Gregson-Williams's "To Jerusalem" from Kingdom of Heaven and meet your hosts in the courtyard of their riad apartment with his lilting "Sibylla."
Dance the Night Away
Taking in the nightlife means visiting clubs. Selecting suitable belly dancing music for your game is tough. Tastes vary. But let's start with Abd Elhalim (Remix) from Heat, link it with "Atlas" from Arabesque, pick things up with "Snake Dance" from Sensual Belly Dance by Aradia and DJ Zen and close with Gamal Goma's "Sahra Saidi" from Aziza Raks!
Arabian Nights
Visit the heart of culture and power with a stay in the Old City. Tap Goldsmith again, this time with "Old Bagdad" from The 13th Warrior for that sense of danger and wonder. Bernard Herman's "Overture/Bagdad" from "The Seventh Voyage of Sinbad" evokes a sense of magic.
For some, Bond's "Road to Samarkand" is too techno, but it matches the stride of many a scheming vizier. If a more traditional orchestra approach is called for, Gregson-Williams' title track for The Prince of Persia also works.
If a sense of nostalgia is called for, Miklos Rozsa's theme to The Thief of Baghdad is available for download.
Modern Instrumental Approach
For my version of Southlands, I'm looking to make "Starvation" from Thomas Bergersen's Illusions my over-arching theme, incorporating "I Still Have a Soul" and "Siren's Call" from Epic Action & Adventure Vol. 4. As standard action fare, it blends well with many of the selections above.
Magic Carpet Ride
What's is like to ride a magic carpet? I'm weighing playing "Archangel" by Two Steps from Hell or "The Flying Sequence" (sans the Margo Kidder voice-over) from John Williams's Superman: the Movie.
But can you go wrong with Steppenwolf's "Magic Carpet Ride?" Close your roleplaying session with that and everyone goes home happy.