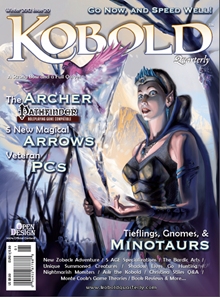 It was a requirement of the art contract for Kobold Quarterly #20 that the art be created to some rock music and that there be video evidence. Long time KQ cover designer Richard Clark did not disappoint! (Check it out after the jump or click here.)
Are you an artist? Do you want to show off your talent? We have a contest just for you! Check out our announcement for the Kobold Artistry contest to learn more about the deadline (which is coming up soon!), plus the rules.
And if you're not an artist, stay tuned for some writing contests coming up this year. In the meantime, if you don't already have your copy of Kobold Quarterly #20, now is definitely a good time to snag it!