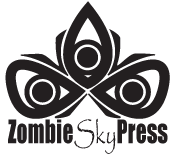 Though he's too modest to brag about it himself, our Web Editor Scott Gable has launched a dual-edition set of Spirit Magic that I think is the most promising new company launch in ages.
Now I might be slightly biased, but if you've seen Gable's writeups in Kobold Quarterly, you might not be surprised. This is the man who brought us the 4 Pathfinder "Holy Remix" priests, as well as the "Ecology of the Phantom Fungus." Now publishing as Zombie Sky Press, his launch titles contain inspired writeups for voodoo, Slavic spirits, and the Cthulhu Mythos: fun, original, easy to adapt to use in any game with a touch of the unworldly—and definitely a surprise for PCs not used to spirit magic in these traditions.
I'm proud to say the Kobold Store is carrying both the 4th Edition Rituals from the Other Side and the Pathfinder RPG Incantations from the Other Side.
In either system, they are well worth your while to check out. And they are hopefully the first of many under the Zombie Sky banner!