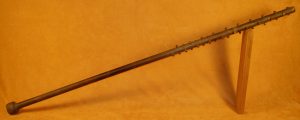 Remember the tetsubo?
Remember asking for some video of stuff getting cut and smashed? Good! Check this video out:
What else do you want to see? We can do videos on the subjects of previous written Real Steel articles, or we can do something completely new. Tell us what you want to see! If we like the idea and it's practical, we may just give it a try.
What video is next? I'm thinking something "edgy." As always, feel free to axe questions… have I offered you a Danish?