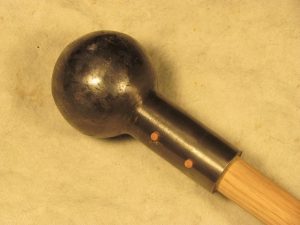 Put in your bid today!
Bladesmith Todd Gdula's brick-smashing moon hammer video is one of the high points of his Real Steel series here at KQ.com. Now that brick-smashing power can be yours — and you'll be giving to a worthy cause.
Todd has generously donated one of his moon hammers for auction at eBay, with all  proceeds after shipping costs (USA only) going to help Christina Stiles get to Gen Con. He says these typically go for $125 and bidding is currently at $20.
If you win, be sure and send us a photo of you holding your mighty hammer aloft in triumph.
Check out the video of the moon hammer in action…