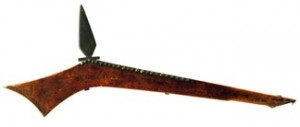 Real Steel has been around for over two years and 24 installments. Although I've done my best to act on suggestions, I haven't been able to get to them all. In part, this is because I have received so many suggestions, and also because I have the practical matter of Real Steel projects needing to fit in with what I have going on in the shop.
So this time I'll make sure I create what the kobolds ask for. Here are some projects I'd like to try. Simply vote for the one you'd most like to see. And if you like, add some suggestions about where you'd like to see the project go. Whichever weapon receives the most votes gets made, and I'll video document the whole thing from start to finish; forging, grinding, heat treating, hafting, and testing—you will see it all.
Pilum
The standard Roman javelin, a pilum or two were issued to every legionnaire. About six ft. long with a three-ft. long wooden haft and the remainder being of iron (I'll use steel), a pilum came in heavy and light models.
There is evidence that a clever design trick was built into each weapon to prevent its reuse by the enemy. The iron tip was hardened, but the rest of the iron shaft was left soft enough so that it would bend when it struck a target—usually an enemy shield. The enemy soldier would then have to discard the shield or struggle to remove the pilum, with neither being a good choice in melee. In either case, the pilum and the shield became useless.
I will demonstrate a throw, though maybe not with a legionnaire's practice.
Gunstock Spontoon
Native Americans invented this devastating melee weapon after observing Europeans using their muskets as clubs in close combat after firing the single shot. A spontoon blade was affixed to a gunstock-shaped hardwood club.
And last, the choice of evil clerics since 1974: A hopped-up club capable of defeating armor, the head of the flanged mace has heavy steel flanges radiating from the center. Because flanged maces are sometimes made with a wooden haft, sometimes all steel, please state your preference if you vote for this one. I will use modern flux core welding to assemble this weapon if it's selected.
What's It Gonna Be, Kobolds?
Post your vote and any relevant comments. I'll start work as soon as comments close. This poll will close down on Monday, February 4, 2013, by noon Pacific, so be sure to vote before then!