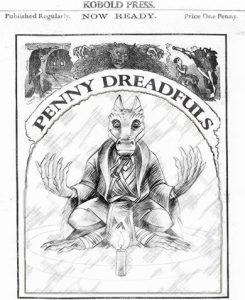 Ever since the announcement of "D&D Next"—or, to translate marketing-speak into actual English, Dungeons & Dragons: 5th Edition—more than a year ago, Wizards of the Coast's efforts to unite the disparate tribes of fantasy roleplaying enthusiasts under one system of roleplaying has been contentious at best. Fans of disparate—and mutually exclusive, in some cases—styles of roleplaying have been contesting and debating the merits of each edition to assess whether elements of that edition should be included in the Frankenstein's monster that is Next.
The results have been ugly, retrograde, and entirely predictable. Wizards of the Coast's promises of modularity and freedom of choice have all been silenced by the advent of the unelected "But that's not D&D!" committee that lurks on every forum. Its members revel in speaking out against progressive design, clutch tightly to every mechanical cow in the event that someone, somewhere might believe it sacred despite its age or dissociation from the remainder of its herd, and rejoice in purging the unclean from the hobby because of their conviction that there is only one ideologically acceptable way to pretend to be an elf.
Theirs.
People who've talked with me know I have never been on board with D&D Next—its design philosophy's attempt to unite the tribes struck me as remarkably tone deaf, naïve, and harmful to the state of play we have been gifted with since the hobby's inception in E. Gary Gygax's basement four decades ago. While some view crowdsourcing as a viable way forward, I predicted that Wizards of the Coast's tactics to engage fans in the design of the next edition of the game would reignite the most-recent edition warfare that's infected gaming discussions since the launch of D&D 4E and the release of Pathfinder RPG. Rather than encouraging gamers to have an honest discussion about the role nostalgia should play on mechanical design, the openness of the process has caused numerous players—most frequently those who prefer older editions of the game—to come forward and out themselves as members of the "That's Not D&D" committee.
I suspect part of the reason I find the views of the "That's Not D&D" committee so bizarre and unhelpful for the hobby is that I don't particularly value nostalgia. As I get older, I've come to accept that the ways I played roleplaying games in the past—particularly my start in the hobby with AD&D—had little to do with mechanics and more to do with where I was at in my life. I'm from rural Louisiana, and when my friends and I discovered a game where we could pretend to be heroes, we used the rules to make stuff up that we thought would be fun. Our creativity and happiness to play together was part and parcel of being young kids happy to hang out with each other, and we didn't really let the mechanics of the game get in our way.
I know game designers can't recapture the esprit de corps of my early forays into gaming, no matter how hard they try; the mechanical design of the games I loved had very little to do with the fun those games facilitated. We didn't think deeply about concepts like simulation, if it was necessary for D&D to have draconic kobolds or doglike kobolds, or whether warlords could "shout wounds closed." Our games were laissez faire and au courant. Now that I'm older and have done a bit of game design, the idea that any game designer would try to recreate the games of my youth strikes me as quixotic and impossible—nostalgia is not empirical, and it cannot be mechanically modeled.
May Garl Glittergold go with those who try.
But to the members of the "That's Not D&D!" committee plaguing RPG forums, the type of fun roleplaying games facilitated should be subordinated to nostalgic purity (in general) and their particular nostalgia (in specific). Did you like 4E? Tough luck. Were warlords the class you were looking for way back when you were playing 2E and wanted to create a fantastic version of Alexander the Great or Zhuge Liang? Sorry, that's not D&D because the game is and must be Eurocentric. Are you interested in non-Vancian magic options? Too bad. That's not D&D even if 2E psionics provided just such a system (and even if it were awesome!). Did you play 13th Age and decide that (what they call) narrative mechanics might be interesting in your fantasy game? Leper. Outcast. Unclean. Forge-ite. Swine.
The problem with the "That's Not D&D!" committee is not the fact that they are attempting to use the Internet to silence and shame those who want D&D to continue moving forward. The issue is these men and women do not understand the extent to which they are fetishizing the past—and in so doing, contributing to the culture that's making it harder and harder to introduce new players to the hobby. Nostalgia and fantasy roleplaying's history have their place in this hobby—but to the loudest subset of message board denizens, that place is decidedly not as a reference to where the hobby's been. History and nostalgia have become Gygax ex cathedra, rigidly constraining our understanding of the hobby's past and constricting the mechanical designs that will define our hobby's future.
But what do I know? Nostalgia über alles. After all, that's not D&D (and it shouldn't be to you or anybody else)!