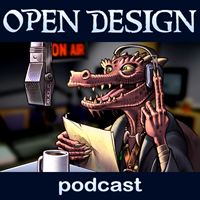 The newest Open Design Podcast, a discussion about game design and game mastery, brings us a slate of expert guests, including:
* 'Ask the Kobold' with Skip Williams
* 'Wicked Fantasy' with John Wick
* Green Ronin publisher Chris Pramas
* Open Design stalwart Joshua Stevens
* Operatic madman Nicolas Logue
We talk about game design and game mastery, including Courts of the Shadow Fey, Dragon Age, George RR Martin, the Chain Mail minis game from Wizards of the Coast, The Whispering Vault, and how to design a better set of options when working with minis.
Your hosts — Wolfgang Baur, Rone Barton, and Ed Healy — also announce the next contest: A free patronage to the upcoming Open Design projects is at stake, and you could win! Please submit your entry by October 10.