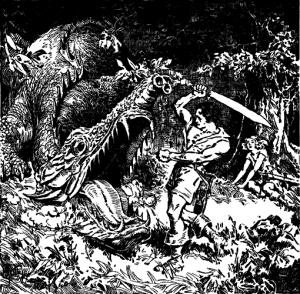 "The sight of it made the earth seem unearthly. They were accustomed to look upon the shackled form of a conquered monster, but there—there you could look at a thing monstrous, beautiful, and free." —Joseph Conrad, Heart of Darkness.
My first Old Hat Monster article was about breathing new life into the classic monster races with my civilized template. The idea plays off a common assumption that the monstrous humanoids are generally going to be unintelligent savages. This assumption is often reinforced by game mechanics and fantasy tradition. Breaking that mold always seems to work—the players always take the "civilized" monster a little more seriously.
The quandary, of course, is that this should be the very opposite. As the player characters explore uncharted territory, there should be a sense of unease . . . a fear of the unknown. Taming the wilds should be a frightening concept. The civilized urbane citizens of your favorite Pathfinder setting should be a little softer than those who still live off hunting and gathering.
Once again, game mechanics are to blame. Proceed cautiously after the jump as I present the first in a small series of tribal templates, starting with the tribal chieftain template (CR +1).
The easiest way to make a tribal chieftain is to use the advanced template and call it a day. That will earn you a monster that hits harder and likely rules the tribe by fear, but unless you want only a speed bump, you've hardly considered the full potential of this sort of encounter. As I mentioned in previous articles, the "tribal" monsters aren't given the same respect afforded to barbarians. Instead, many might see them as being simply stupid. Stupid isn't intimidating if your players have any sense of tactics, otherwise every villain would look like the Hulk: strong and hard-hitting but easily deceived or avoided. And with this tribal chieftain template, you have more to work with in terms of roleplaying, which can also engage your players in ways other than combat, potentially.
Considering that the tribal chieftain should be a decent leader to maintain his or her position (a feared leader eventually gets the Julius Caesar treatment), this means the creature should gain a boost to both Charisma and Wisdom. For our purposes, the tribal chieftain template adds +4 Wis and +4 Cha.
The chieftain often resolves internal conflicts and sets tribal policy toward matters of territory and the treatment of outsiders, thus he or she gains +5 to Bluff, Diplomacy, Intimidation, Perception, and Sense Motive, plus gains an additional +3 to Bluff, Diplomacy, or Intimidation. More so, the chieftain understands the importance of being knowledgeable about nature and the land the tribe inhabits, so add +8 to Knowledge (nature), Knowledge (local), and Survival. To understand how to proceed in tribal matters, one must remember where one has been, so add +8 to Knowledge (history) and Perform (oratory), with an additional +4 modifier for recalling and telling tribal stories.
The tribal chieftain's rise to power is rarely unopposed and more often fraught with peril, so the following feats helped the chieftain gain power: Weapon Focus (tribal weapon), Weapon Specialization (tribal weapon), Toughness, Improved Initiative, and Dodge. If the chieftain has 7 or more Hit Dice, you can add Leadership to that list, even if the character would not ordinarily qualify. In addition, if the tribal chieftain has at least a Charisma score of 13, he or she may use comprehend languages and suggestion once per day as though the chieftain had cast the spell as a sorcerer equal to his or her Hit Dice.
In battle, the tribal chieftain that stands with members of his or her tribe grants a +2 morale bonus to attack rolls and against fear effects. If the chieftain falls, there's a 25 percent chance the rest of the tribe will surrender, a 25 percent chance they will flee, and a 50 percent chance they will all become enraged as per the rage spell (CL = the chieftain's Hit Dice.) If a shaman or hero is present, the tribe may defer to either of those templated characters.