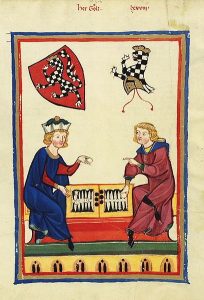 Welcome to Colin McComb's Now, the Twist. A dangerous journey that will force him to take a long, hard look at game design.
Join him, won't you… in his ongoing struggle to pass Go.
___
Ah, the dreaded introductory post. Let's make this fast and painless, and then we'll get to the meat (no points will be awarded for "that's what she said!").
I've been playing games for most of my life, but my interest in gaming stepped into high gear when I was 10 (that was 30 years ago), when I first played Dungeons & Dragons. From that point, I became obsessed. I played D&D through high school and through college, and through a truly strange twist of luck, I found a job at TSR as a game designer—quite possibly the optimal use for a degree in Philosophy…
I worked at TSR for 5 years before moving to California to take a job with Interplay's roleplaying division, later known as Black Isle. My first project there, a Playstation Planescape game, was cancelled before our team ramped up, and I became the second designer on the game we first called Planescape: Last Rites, and later Planescape: Torment. I met a fabulous woman way beyond my pay grade and moved to Michigan with her, and I've been kicking around doing freelance game design since, with tabletop companies like Malhavoc Press, Paizo Publishing, and Kobold Quarterly, and some electronic game design as well for others and for my own company, 3lb Games.
I also teach game theory and mechanics and have advised local colleges and universities on establishing game design curricula.
And for some reason, I still feel like I'm pulling the wool over people's eyes when I talk about designing games. Designing games is work, hard work, but it's so fun that it feels like cheating to call it a job. It's difficult to describe myself as a fun expert, which is what "game designer" really boils down to—it seems like the height of arrogance to suggest that I know exactly what makes something fun.
Here's the thing: I don't. And you know what? Very few other people do, either. We have a lot of theories. We have a lot of metrics. We have processes and procedures for writing, testing, revising, and iterating. We have the nebulous concept of "balance." I have a pile of game design books with heavy titles and dense academic text sitting on the floor by my desk here—for instance, Salen and Zimmerman's Rules of Play, a thick and exhaustive work about what exactly makes a game, in which the authors freely admit that they wrote the book in order to get people talking about games academically.
Yet the framework of design aesthetics remains remarkably opaque, and while we have a common foundation in the tabletop industry (less so in the electronic industry), our methods and results have diverged almost from the first day. In large part, this is because our games do not fill a pressing need in the real world, and they will not result in death or harm if they are improperly designed, so the games are free to take whatever form their designer wishes: we are not architects or ergonomic designers. We are game designers. Our common goal is fun.
This is one of the reasons I refuse to get involved in an edition-war discussion. For one thing, I have friends who have worked on both editions, and choosing one over the other is tantamount to choosing sides. For another (and this is really the more important one), it's a stupid argument.
People like what they like. They have fun doing what they have fun doing, and for gamers to tear apart other gamers because their style of play isn't pure enough or it's too much like a video game or it's too complicated, or whatever the reason: it does not improve our own play. It does not actually make us superior people. Here is what it does: it makes us nincompoops.
Fun is fun, and what one likes another may despise. This does not make one any less than the other, just as vanilla ice cream is not inherently superior to chocolate. This should be self-evident. People will continue to enjoy their brand of fun with or without our input, and as long as their fun does not hurt us, we have no right to judge them. Some people like Candyland. Some people like chess… wait, let me amend this so people can't point to one or the other and say, "Ha ha, your edition is Candyland!" What I mean is that some people like Pandemic. Some people like Hive. Both games are excellent in their own right. Both games offer different experiences. Neither is objectively better than the other, but they're both incredibly fun for what they do. Draw the parallel.
That's what this is all about. That's what motivates most of the game designers I know. We come to a common place to share an experience, and that experience should result in fun. It should result in memories. It should result in strengthening our ties with each other. It should result in people wanting to play our games.
In the end, we need to be united as gamers and recognize that similarity between us all: we like games. That should be enough. What we do with our games is between us and our games, but the commonality that binds us is an open and loving acceptance of play.
Next column: A tour of the Fun Factory.