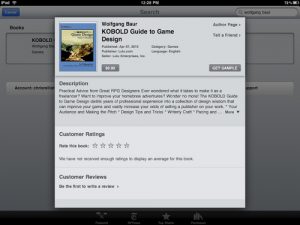 Kobolds love gadgets, even ones that don't include hidden poisoned spikes or triggers that drop you into pits. So we're happy to announce that we've gotten our claws into the newest shiny gadget on the market. Behold!
Yep, you can now buy The Kobold's Guide to Game Design, Vol. I, at the iPad's iBookstore…
Of course, you can open any PDF from KQ or Open Design on the iPad; however, they haven't been optimized for the iPad, so we can't guarantee that all of the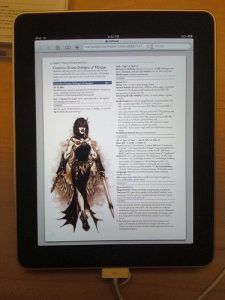 formatting will be preserved. But during production on Imperial Gazetteer for Pathfinder Roleplaying Game, our layout designer snapped some photos of how the PDF version looks when you read it on the iPad.
You can expect e-reader devices and apps such as the iPad, Amazon's Kindle, and Borders' upcoming Kobo eReader to have a major impact on game publishing; and while we can't give away any specific plans just yet, it's a safe bet that this won't be the last electronic kobold you'll see creeping around in the digital warrens.