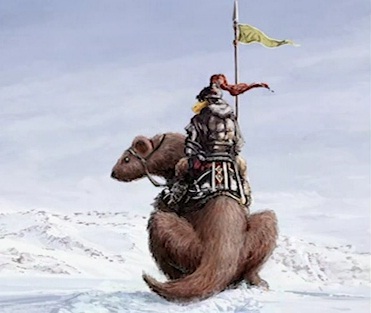 It's a fact that in every fantasy roleplaying game, whether it's Pathfinder RPG, Dungeons & Dragons, or Castles & Crusades, a kobold's life is short. They're wily and quick, but they have few hit points. Sooner or later they go down — fighting.
That day has come for Kobold Quarterly magazine. After five years of publication, Shelly and I are closing the doors on the little fanzine that could.
There's a FAQ at the end of this post with more information, including details for subscribers (who will have the choice of a full refund or a larger amount in Kobold Store credit) and for writers (editors will contact you about Winter submissions).
That's the nitty gritty. But as Kobold-in-Chief, I don't want to talk about that right now. I want to talk about what Kobold Quarterly means to me.
I always hoped that Kobold Quarterly would someday be my full-time gig, but it was not to be. My sincere thanks go out to everyone who contributed to the magazine, starting with our stalwart subscribers, advertisers, authors, and artists. Thanks also to those who bought only an issue or two; for us, every sale was crucial to our continuing. The magazine may be going away, but the Open Design goal of creating new ways for people to publish their RPG ideas will continue.
This is a very sad day for me personally, and I know this comes as a disappointment to many of you. The line on small press magazines these days is, "every issue is a little miracle." We finally ran out of miracles, but it's been an absolutely stellar five and a half years with Kobold Quarterly's contributors, subscribers, and readers.
Thanks for making it more than a "product." Thank you for making it original, surprising, thrilling, inspiring and quirky. Thank you for making it playable and debatable and fun. All adventures end, and this one has been a blast.
And now, as adventurers do, we will gather in the tavern to hoist mugs of ale and talk about the monsters we slew and the treasures we won. And then we will begin planning and scheming for the next adventure.
Kobolds might be easy to knock down individually, you see, but they always come in big numbers. The kobold crew will keep serving you with free articles, the free Courier newsletter, Kobold Press adventures and sourcebooks, and other projects.
We remain Small but Fierce.
Kobold Quarterly FAQ
Hey, what happened to Kobold Quarterly?
After an amazing five-year run culminating with Kobold Quarterly 23, Kobold Press ended the magazine on a high note. The kobolds are now focused on designing and publishing high-quality RPG adventures, sourcebooks, campaign materials and other types of roleplaying game supplements in print and electronic formats.
What happens to my Kobold Quarterly subscription?  
If you have any issues remaining on your KQ subscription, you will get a full refund for your remaining issues.  You have three options:
Receive a 150% refund in Kobold Store credit. If you opt in, you'll get a credit to use on any future purchase equal to 1.5 times your remaining issue credit.
Receive a 100% refund for your remaining issues via PayPal.
Receive a 100% refund for your remaining issues via paper check, if you paid with a check or money order and do not have a PayPal account.
All subscribers will get an email from Shelly letting them know how many issues they have remaining, and she will deliver the option you prefer for a refund or store credit.
If you don't choose one of these 3 options by Saturday, December 15, you will get the PayPal refund by default. We will strive mightily to process all refunds by December 31, 2012.
What happens to the Adopt-a-Soldier KQ subscriptions?
Any new Adopt-a-Soldier funds coming this quarter will be refunded in full to the donor. Service members who are currently subscribed to KQ through the Adopt-a-Soldier program will get an email giving them the option to either take the store credit as described above, or receive a refund.
Why are you doing this now?
While we are profoundly grateful to every subscriber, every advertiser, and everyone who ever bought a single issue of Kobold Quarterly, the magazine has always led a hand-to-mouth existence. It's been glorious fun, but at some point in the last year or two it became a burden and even a bit of a grind to devote every night and weekend to KQ, four months a year, while working a full-time job and being a husband and a father to two kids.
The reality is that magazines are born, they grow, and eventually they decline and disappear. Others will carry on, but after five and a half years of publication, it's time for the kobolds to move on to other things.
I submitted an article to KQ. What's going to happen to it?
If you have submitted an article to the KQ editors, they will respond to you directly about your article. Even though the magazine is coming to an end, Kobold Press is still going strong – so some articles will be picked up for other Kobold Press series, such as the New Paths line, Midgard Adventures, and other new releases.
Why can't you just do a Kickstarter to pay for KQ?
A Kickstarter might raise enough money to support a print run, but it's unlikely to raise enough money to maintain a staff. (And honestly, paying a salary is not what Kickstarter is for.)
I'll spare you the details, but editing, publishing and distributing Kobold Quarterly with a staff of volunteers and freelancers has simply exhausted the existing Kobold staff.  With the birth of our second child in addition to the hours Kobold needs, my wife Shelly (Kobold Minion #1) has burned out; and we can't fill her roles in accounting, customer service, shipping, and ad sales with volunteers. We're grateful she has agreed to close out existing subscriptions and handle the transition.
Why can't you just go PDF?
We thought about that, but after a lot of soul-searching, financial calculations, and looking at the fantastic resources and talent we've built up over the years, we decided to dedicate our time and energy toward putting out insanely great adventures, sourcebooks and other types of RPG supplements.
What should I read now? I'm massively bummed.
You'll be happy to know that the Kobold Quarterly blog will continue, and it is still totally free, with a new article every weekday. That is about 20 articles a month, submitted by gamers and industry pros alike. Check it out, and maybe sharpen up a pitch to send to Miranda.
You should also subscribe to the free Kobold Courier e-newsletter if you haven't already. (The signup form is at the bottom of our home page.) It has original Kobold content, links to industry news and products that we think you'll like,  as well as roundups of the latest blog articles.
Also, there are lots of great print or PDF magazines still out there: Wayfinder, Pathways, Crusader, Fight On! and others. We encourage you to check them out and support them with donations and subscriptions!
So, these new projects you keep mentioning. Can you tell us more?
Sure! To name just a few:
 The Valhalla Calling project is a game writing contest that will award someone a contract to publish their adventure with Kobold Press.
 The New Paths PDFs will continue to expand new character classes for Pathfinder, and we plan to continue the series.
 The Player's Guides will bring additional rules heft into the Midgard campaign.
 The crew also has two top-secret projects in the works for 2013.
The end of a print magazine is sometimes the beginning of something new and great, and everyone involved in creating KQ can be proud of its run, its contribution to gaming, and its service to the audience. Now it's time to serve that audience in a new way. I hope you'll join us as we light out for the territories ahead.
Thank you,
Wolfgang Baur, Shelly Baur, Miranda Horner, Christina Stiles, Chris Bodan, Cathy Rundell, Crystal Frasier, Wade Rockett, Pierce Watters, Jeff Grubb, and all the designers, artists, and editors who brought you Kobold Quarterly, the small-but-fierce magazine of the roleplaying games hobby.
 Artwork: Chris McFann