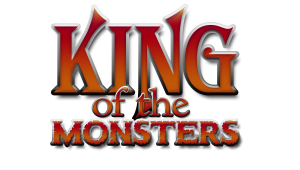 The monster apocalypse is here. In just a few short sentences, you'll discover the identities of the 10 finalists of KQ.com's first ever King of the Monsters Contest. But first…
We would like to thank each and every one of you that sent an entry in. We couldn't have done this without you.
The judging was not easy. There are many awesome monsters now lying bloody in the judges' wake. But there could be only 10, so difficult decisions had to be made. The judges—Jeff Grubb, Wolfgang Baur, and Scott Gable—each made their picks and championed their candidates.
Some monsters sailed through, getting the illustrious Three Nods. Most, though, were not so lucky.  It turns out, each judge had a slightly different perspective, unique in their experiences, dreams, and expectations. Who knew? However, with the help of some beer and Vietnamese cuisine, an accord was reached, shaped by passion and logic (and some not-at-all shady promises).
The competition was fierce and those that fell were very much contenders until the end. Many will no doubt rise again. Everyone who submitted an entry should be proud.
And now, we congratulate the 10 finalists (in alphabetical order)…
Afanc
Echidna
Grave Linnorm
Grievous Wailer
Hive Ghoul
Polydoros
Spark
Treacle
Wendigo
Zaglossus
These 10 monsters will now fight for domination (and prizes!) in the public arena. For the next 4 weeks, each Monday, Tuesday, and Wednesday on KQ.com will be dedicated to the King of the Monsters Contest. Starting tomorrow, each monster will have a day to shine. Finally, on January 13, the judges will post some comments on the process and the public voting will begin. One week later, only one monster will stand.
Everyone is welcome and even encouraged to comment on the monsters. Study them carefully. Watch how they move. Swish them around your mouth. Er… whatever you need to do. Indeed, there is a wide variety and from various editions. All we ask is that you be civil.
So pull up a chair and root for your favorite!
______
Really? You want be to clean up after them? Have you seen what some of them eat? OK, fine. I'll do it, but after, we talk about that vacation time you promised, yeah?