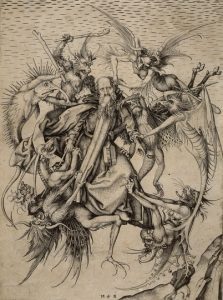 Demons and devils occupy an odd position in the pantheons of most fantasy RPGs. For the most part, those terms are just two more names in a long list of monster classifications, not much different from fairies or talking animals. They've been stripped of their terrifying spiritual implications.
That's a shame, because their unholy aspects are what make demons and devils so fascinating in our collective, churning imagination. Reducing them to scaly super villains deprives our fantasy campaigns of some fascinating potential. Sadly, the same affliction cripples most RPG "gods," who are diminished to the status of remote, somewhat apathetic super heroes.
D&D's cosmology throws more oil on the hellfire by pitting devils and demons against each other instead of uniting them in a mutual war against Heaven.
Traditionally, the Devil is the personification of evil. He/she/it leads the infernal host in its opposition to the reign and agenda of God, whoever he/she/it might be. Their battlefield is not some remote plane of existence. They wage war in the everyday world over the souls of mortals like you and me.
Demons are the footsoldiers of evil in this war. They tempt mortals toward sin, test their faith, drive wedges between mortals and their gods, and generally spread suffering and torment for the hell of it (you knew it had to be said; now it's out of the way).
At the heights of human superstition, demons were assumed to be everywhere. Everything from natural calamity to minor bad luck to out-of-wedlock pregnancy could be blamed on them. Whether 500 people died from a flu epidemic or a clothesline snapped and dropped fresh laundry into the dirt, snickering demons were high-fiving each other in the Pit.
The war between Heaven and Hell supposes something that many RPG campaigns lack: an afterlife. Without an afterlife for mortals' souls to aspire to, a supernatural war to claim those souls makes no sense. Without a tug-of-war over mankind's eternal spark, demons, devils, and gods lose much of their traditional role in the world.
Fantasy religions tend to differ significantly from the Abrahamic traditions most Western roleplayers are familiar with (Judaism, Christianity, and Islam). Some percentage of DMs and players—no one can say how many, though I would love to know—are uncomfortable with anything in their games that smacks of real-life religion. God is a sensitive topic.
If a GM wants to restore some of the demons' traditional purpose, could it be done without violating the game's carefully erected wall between church and d8? What changes would need to be made?
Chiefly, the setting needs a hard-fought conflict between good and evil, deity and demon, Heaven and Hell. Mortals are more than caught in the middle; they are the reason for it, the football at the core of the scrum. The question is, why? What is it about mortals that the divine and infernal sides in this war value so highly?
Souls. Call it the soul, the spirit, or the eternal spark. It's that slice of the mortal that is immortal. Good wants to reward souls and give them a place of eternal peace. Evil wants to torment them, chain them to the oars on their barges of forsaken dreams, or at least frustrate Good's desires. If the free will of mortals can affect the outcome, then demons have all the reason they need to butt in and try to rig the game.
Positive and negative emotions. Gods and demons might feed on the positive and negative emotions of mortals. "Feed on" is a bit clichéd. They could as easily draw simple satisfaction from their favorite emotions, gain access to the world by traveling along the threads of dominant emotions in the weave of reality, or just enjoy seeing their favorite emotion on the rise while their foes are getting the smelly end of the stick. This assumption offers unique opportunities for demonic special abilities, if their chief purpose is stirring negative emotions.
Belief and prayers. The notion that gods, devils, and other supernatural beings draw power from the prayers and rituals of mortals, or even from simple faith, has a long heritage. It was one of the foundation stones of the Planescape setting. Like emotions, this principle doesn't require souls or an afterlife, in case those concepts make someone uncomfortable. If the furnaces of good and evil are fired by devotion, the competition for it is guaranteed to be fierce. Unlike emotions, which can be manipulated squarely in your face, winning over people's beliefs calls for more subtlety and intrigue, if that's the type of game you prefer.