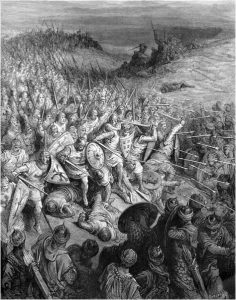 I just returned from an event that's always one of the highlights of the year for me—Enfilade, the annual convention run by NHMGS (Northwest Historical Miniatures Gaming Society). Not only is it a solid weekend of playing with toy soldiers, it's also one of the best-run conventions I've had the pleasure to attend.
As usual, wargaming gets me thinking about fantasy warfare and why we don't see more of it in RPG adventures. War plays a big role in sword & sorcery novels both old and new. You need look no further than The Lord of the Rings or Game of Thrones for great examples. Clearly, roleplayers consider war an exciting topic. Why does it keep to the shadows in our games?
I'll leave the subject of how fantasy warfare would differ from historical warfare for a different time. Let's look instead at what I see as the three reasons why war gets ignored or pushed into the background in RPG campaigns.
1. DMs aren't comfortable dropping characters into a war because they themselves aren't sure why a war is necessary or what it would be about.
This one's easy. Just look to history for an answer. Wars are fought to bring more people and territory under a kingdom's or empire's rule; to shut down a troublesome, violent, or larcenous neighbor; to spread your religion; for natural resources, richer trade routes, or plunder; to throw down an oppressive ruler; to settle the question of who's really in charge; and to defend yourself against any of the above. All of those reasons work in a fantasy setting.
2. DMs might be reluctant to go down the road to war because they don't understand how wars are fought and they don't want to make a hash of it.
If you find yourself in this position, my first recommendation is to close this gap in your education. You can study war without admiring it, and it's a fascinating subject. An awful lot of human effort and ingenuity has been devoted to war. Understanding it is not a bad thing.
But for a quick solution, steal from the pros. Grab a real war off the shelf and use it as a blueprint. A few that stand out as excellent models for an RPG campaign are the campaigns of Philip of Macedon and Alexander the Great for the forging of an empire and rise of a great conqueror; the Roman Civil War of 50 B.C. for an empire in chaos; any of the Gallic Wars or Roman wars in Britain for an Imperial campaign against barbarians; the Fall of Rome for a barbarian invasion of the empire (or the later Mongol invasion to pit the barbarians against a feuding cluster of distrustful kingdoms); the 1st and 3rd Crusades for a clash of religions and cultures; the Baron's War for an internal revolt against the throne; the ravages of the Vikings, Saracen pirates, or Scots for harrying (or defending) a kingdom's borders against raiders; the War of the Roses for a dynastic struggle; and any of the countless dustups in Italy during the 15th Century for short, jealous, pointless wars involving mercenaries with no loyalty to anyone but their paymasters.
Find a good, simple history of your favorite war, change the names of countries and kings, stretch and squeeze the map into the shape of your continent, and the work is 90 percent done. In this regard, The Encyclopedia of Military History by R. Ernest Dupuy and Trevor N. Dupuy (Harper & Row, 1970) is a great starting point. If you can't find a worthwhile war in there, you're not seriously looking.
Counter-and-hexmap wargames are another great resource in this regard. They set up all the forces but then let events follow their own course. Transfer the armies to your own map and you can follow their maneuvers, victories, and defeats in clear detail, even if you completely ignore the game's combat rules and substitute your own narrative events.
3. Players and DMs fear that characters won't seem special if they're reduced to cogs in a great military machine.
One often-suggested solution to this question of specialness is to make PCs the fantasy equivalent of commandos and send them on special missions to recover artifacts of power, assassinate enemy generals, and blow up supply depots (no, wait, I'm thinking of Rock Hudson in "Tobruk").
Nothing's wrong with that approach, but it's not the only solution. Player characters can be cogs and still remain special. Great warriors and slayers belong in the forefront of battle. Adventurers need to be good at many things, but where they really excel is in the slaughter business. When is the last time your characters waded into a literal army of foes and hewed great swaths of death until they were ringed by corpses like heroes in a Frazetta painting, and the enemy was still coming on in waves? That's a scene that will get any fantasy fan's blood pumping.
War is the ideal theater for indulging players' bloodlust. Open all the valves and let the steam boil out in great, screaming billows. Adventurers thrive in times of social upheaval, and nothing heaves up society like war.
If you've run thrown characters into a war, or played a character through the course of a war, how did it go? What tricks did you use, and what lessons did you learn? What's your "favorite war" to use as inspiration?
LINKS