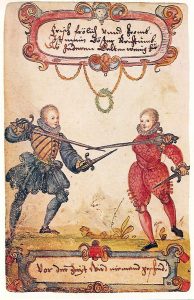 Just about everyone has seen one form of sword fighting more than any other: fencing. From masked Olympians whose win or loss is recorded by an electronic sensor to swashbuckling movie actors who clang prop swords together but only land hits when the plot demand it, both are a far cry from the battlefield weapons of the last 3,500 years.
Since most roleplaying games feature swords from throughout history, how exactly did mainstream conceptions get to where they are? Take a deep breath, say to yourself "there's no such thing as a perfect sword design," and let us go back in time a bit.
From Trial by Combat to Olympic Medals
The notion of a gentleman's duel and of swords designed for civilian self-defense are each distinctly notable influences. Judicial duels — essentially government-sanctioned trial-by-combat or the "wager of battle" in English sources — had been a prominent and surprisingly regulated part of Germanic and English common law throughout the Middle Ages, but it gradually petered out by the 1500s. Gentlemen's duels, while socially accepted, were usually illegal in Europe; however, authorities enforced such legislation with questionable vigor. Over a 10-year stretch of the reign of Henry IV at the start of the 17th century, at least 6,000 nobles were killed in duels, so dueling was officially banned in France in 1626.
The word "rapier" itself probably derives from the Spanish "espada ropera," literally "sword of the cloth"—a dress sword, in other words. The first mention of an "epée rapière" dates to a French document from 1474 although history has no idea to what sort of blade this referred to. By 1530, however, it meant a new type of nearly edgeless thrusting sword used by civilians for single combat. It was distinct from the longsword and the other notable military sword of its day, the "side sword," which was both the predecessor of the rapier and also served as a military weapon through the 17th century.
While the gentlemanly duel has been romanticized, the early 1500s also brought with them a lot more street fighting and vendetta killings. The rapier did not necessarily start as the dueling noble's weapon of choice, but this quick, long, thin weapon was just the sort of sword an unarmored man would want to keep his attackers at bay in a narrow Renaissance alleyway.
The Dueling Sword
The dueling sword continually developed throughout the period. Early rapiers favored a "longer is better" approach, but by the 1570s, the blade had shortened, and more emphasis was placed on protecting the wielder as swept hilts and plates gave way to more elaborate cup and basket hilts. At the same time, this new martial art of civilian defense—taking the word "defense" and abridging it to "fence," hence "fencing"—sought out and experimented with new and varied techniques. The medieval dagger was revived for parrying in the form of the main gauche, and mail gloves, lanterns, and even cloaks were employed and modified as off-hand techniques.
The true rapier remained the premiere self-defense weapon for 200 years without replacing those swords designed for battle. It was eventually eclipsed by reliable pistols, but even then, its successors lived on. Just as wearing a rapier was less threatening than going about town with a war-sword at your hip, by the 1650s the smallsword (or "town" or "walking sword") had originated as a scaled-down rapier. It was designed more as an element of dress than a self-defense weapon, with increasing amounts of ornamentation.
As the pistol took over from the sword in most duels and the rapier gave way to the smallsword, civilian fencing changed from versatile swords intended for defense to those made entirely for thrusting. In the 1700s, a Parisian smallsword with a tip blunted or covered in foil, then known as the "Pariser" became the first weapon form used in "academic" sport fencing. Military academies in the early 1800s adopted a modified military cavalry saber into the "academic saber," and in the late 1800s, French academic fencers unsatisfied with the fencing foil recreated what was a essentially a cup-hilted smallsword with a nonlethal tip, which became the modern épée.
The three styles of sport fencing that showed up at the first Olympic Games in 1896 are a far cry from the Renaissance rapier—techniques done with flexible, blunt instruments might be mechanically impossible with a stiffer rapier, and those same techniques that score points under the constraints of the sport's rules might be outright suicidal in a street fight. In the same way, the blade grabbing, grappling/body contact, disarming, and off-hand weapons that were effective in street combat were made outright illegal in sport fencing.
Cut versus Thrust
The notion that thrusting swords are inherently superior to slashing weapons is primarily a modern misconception. Bronze-age swords were by necessity optimized for piercing. Copper and bronze are soft enough to flex, bend, and be gouged by any sustained cutting but hold up fairly well when used for stabbing. The rise of iron and steel weapons greatly expanded the options. While Greek hoplites may have been famous for their dory spear as a primary weapon and the straight xiphos as a reserve weapon, they also used the hacking, slashing kopis. The Roman-era Iberians, famous for the straight sword they introduced to the Romans, were also famous for their falcata. The medieval and post-medieval falchion and Grosse Messer served alongside the arming sword and longsword. This trend continued for much of history, with most cultures using cutting and thrusting weapons in concert or using swords that were a compromise between the two.
And the mock fighting from films? Part derives from the techniques used for sport fencing, and part of the whirling-chop-parry technique derives from Renaissance mock fights. While a heavy cutting blow might sever a limb or a head, a light laceration was easier to sew up than a puncture wound. Likewise, thrusts with a featherweight sport épée don't involve the same amount of physical effort as a blow from a longsword or even a 16th century rapier. Add in Victorian and Edwardian ego among gentlemen who had never seen a knight in mortal combat or their Renaissance ancestors in a Venetian street brawl, and the myth of the light thrusting sword as the refined, linear progression from clunky medieval slashing blade doesn't seem that hard to imagine.