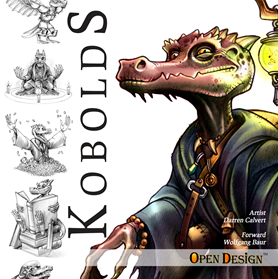 The life of a kobold is a hard one. Fierce but small, they must summon all of the wits, cunning, and tenacity they can manage to survive in dungeons filled with bigger, meaner, well-established creatures. And don't get me started on the groups of armed jerks who periodically invade their homes intent on mayhem and robbery.
How tough does a kobold have to be to survive even one year in such an environment?
With that in mind, I take some pride in the fact that Sunday, March 20, marks the fifth anniversary of my best crazy idea ever: Open Design, a game company run under the patronage business model where gamers themselves can be a part of the design process. Here's the post that started it all, followed by the dawning realization that this could work.
I'm so giddy that in yet another lapse of good judgment, starting today I'm celebrating by discounting a ton of books, adventures, and magazines in the KQ Store for ONE WEEK. Yep, it's Mad Wolfgang's Anniversary Sale! (Note to self: next business venture = used car lot.) And there's a special giveaway item, too!

From Friday, March 18, through Thursday, March 24, you can loot the KQ Store to your heart's content.
Special Anniversary PDF: Spend $50 (US) or more in one purchase, and you will get a special free 5th Anniversary PDF chapbook that collects the best artwork featuring our beloved kobold mascot Jiro throughout the years! This 24-page volume includes new full-color images and the secret origins of Jiro.
For our sale, we're offering 50 % off these items:
ALSO:
Buy any print item in the Store and if there's a PDF version, you get the PDF free!
This sale is my way of thanking all of you for your support over the past five years. By definition, Open Design could only succeed with your participation. So to all the patrons who helped create our sourcebooks and adventures, and the folks who bought the finished products…thank you very, very much for this wonderful five-year ride. I look forward to continuing on with you to our glorious 10-year mark, and beyond.