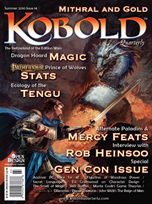 Curses! Those dirty gnomes have staged their annual raid on our vaults, this time through a clever scheme involving ridiculous moustaches, a grappling hook, twenty pounds of cheese, and a windmill.
While our kobold guards are off chasing the culprits, you can sneak in and download a FREE issue of Kobold Quarterly magazine. Go to the KQ Store, add issue #14 to your cart, and enter the coupon code KoboldWelcome at checkout to snatch a PDF copy of your own.
Issue #14 was our extra-big Gen Con issue, and in its pages you'll find:
Exclusive Pathfinder content, including two articles by Paizo staff
The Ecology of the Tengu—in Golarion and in Zobeck
An interview with 4th Edition D&D lead designer Rob Heinsoo
Treasure Trove articles with phat loots to improve your game and bring smiles to players
Paladins, secret languages, and aasimar PCs
Secrets of Game Design by Monte Cook
So much more that it makes us dizzy to even think about it!
The vault will be locked and guarded again on February 14, so act now!
While you're there you might also want to get a copy of the new issue, Kobold Quarterly #20 and build an elven archer, equip yourself with clever new arrows, and survive fey hunters and their hounds. You'll also find Jeff Grubb discussing the lost elves of Midgard, an interview with Christina Stiles, a new Zobeck adventure, vile Derro ooze magic, AGE system specialties, 4E racial utility powers, and more. Heck, you might even want to subscribe so you don't miss a single issue.