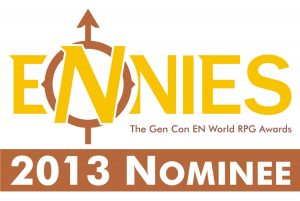 This year's nominees for the annual Gen Con EN World RPG Awards (ENnies) are out, and we're delighted to report that three Kobold Press books are in the running!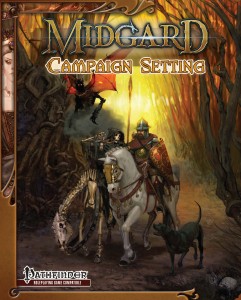 Midgard Campaign Setting by Wolfgang Baur, Brandon Hodge, and Jeff Grubb: Best Setting
We asked Brandon Hodge how he felt about the nomination and he wrote back, "When Wolfgang assembled the Midgard Campaign Setting team, I was both honored and thrilled to help lead and collaborate with such an amazing and creative collective. Now that the fruits of that labor have been recognized with an ENnie nomination, it makes all the work pouring our hearts and souls into its pages all the more satisfying, and I couldn't be happier to know that the dark realms of Midgard will be corrupting the gaming tables of a wider audience."
 Jeff Grubb adds, "I am delighted to see that our combined efforts on both Midgard and the Kobold Guide to Worldbuilding have been recognized by the ENnies! Both projects were a team effort, and congratulations to everyone involved. Huzzah!"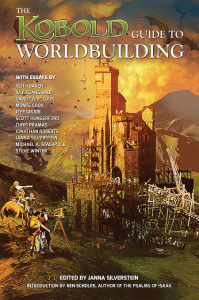 Kobold Guide to Worldbuilding, edited by Janna Silverstein: Best RPG Related Product, Best Writing
Kobold Press and Open Design aren't just about delivering great games: they're about inspiring and mentoring new game designers through active participation in the design process. This book followed in that tradition when it joined our best-selling line of game design guides, with essays on the art and craft of creating worlds from Wolfgang Baur, Keith Baker, Monte Cook, David "Zeb" Cook, Jeff Grubb,  Chris Pramas, Michael A. Stackpole, Steve Winter, and more. The Complete Kobold Guide to Game Design took home the gold last year, and it would be pretty great to see this book do the same.
Wolfgang says, "The double nomination for Kobold Guide To Worldbuilding is a very happy sign. The newest member of the Kobold Guide series is the strongest yet!"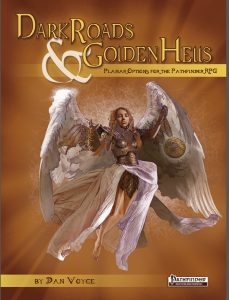 Dark Roads and Golden Hells by Dan Voyce, Jarrod Camiré, Sarah Hood, Chad Middleton, Umber Phillips, John Pope, Burt Smith, Brian Suskind, and George "Loki" Williams Best Supplement
Ah, the planes, the PLANES! We were very excited to do this project, and the results show in the weird and wonderful worlds where Good and Evil, Law and Chaos reign in their purest forms.
Thanks to all of our readers and players for their support. Voting begins on Monday, July 22, and runs to Wednesday, July 31—and we hope you'll vote kobold in 2013!