We've lowered the Black Flag (for now…) and are now flying the Valiant Flag for our Tales of the Valiant roleplaying game, based on the Core Fantasy Roleplaying system.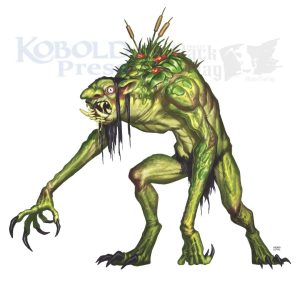 Playtest Packet #3, Monsters is in final review and we look forward to letting you sink your teeth into it and tell us how it tastes.
This preview of our Monster Vault book contains some classic monsters from the SRD, updated using the current Core Fantasy Roleplaying rules concepts, and new, never-before-seen monsters! (Ed note: And a couple we ran on the blog not too long ago.)
We are very interested to hear what you think about the improved lore and usability of monsters, all compatible with 5th Edition you're already playing! Look for it next week.
Sign up to gain first access sent straight to your email.
Until then, help Kobold Press celebrate our moving sale! We are moving our warehouse. The kobolds are already tired from packing, and we haven't even told them they have to move all those boxes yet.
Ease their Small burdens and get quality Kobold Press RPG books at a substantial discount! Visit the Kobold Warrens Moving Sale for discount on select products until April 30!
If you frequently ask questions, we have an FAQ for you! Find out what Project Black Flag is all about!
And, join our community conversation over on the official Kobold Press Discord.