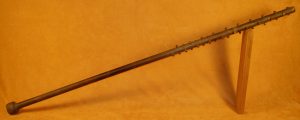 The tetsubo is a fairly obscure but interesting weapon that almost no one had heard of until very recently. Its place in history is a bit sketchy, and it's difficult to find reliable information on the tetsubo, also called the kanabo, but its place in Japanese mythology is solid. While I know a bit of Japanese terminology as it relates to bladesmithing, I have no real grasp on the language, so unfortunately I've had to rely on others and the internet to help get to the truth on this weapon.
Fortunately in this case, the language issue is simple and easily found. "Kana" (also spelled "kane") means metal, and "tetsu" means iron; "bo" means staff or stick. So the tetsubo is an iron staff and the kanabo is a metal staff. Almost all metal staffs were made from iron, so they are really the same thing.
Why then are we seeing brass-studded wooden versions of weapons that were historically made from iron? I'm not certain, but I'll take an educated guess: there are more wood workers around than bladesmiths and blacksmiths. It's a simple adaptation that allows cheap and easy production for the uninformed masses. I'm a fan of doing things right. Cheap and easy, not so much, and I'd prefer to inform the masses…

Let's Press the Issue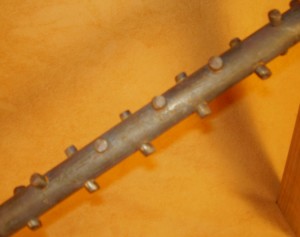 This was a fun project. My son Sam and I had just watched Deadliest Warrior: Viking Vs. Samurai. I was explaining to him that I had read about the tetsubo, and I was pretty sure the producers of the show had gotten it wrong. It probably should have been made of iron or steel because wrought iron is hard to come by these days.
Sam asked if I could make one, and after thinking about it for a half a second, I said "sure, it should be pretty easy."
I was still trying to source some mild steel round stock of the proper size that wasn't going to cost me a fortune in shipping when I saw a digging bar in a local big box home improvement store. I got the bar home and sized it up. I cut off the digging blade on the chop saw, drilled some holes in the shaft, and cut up some 2-inch pieces of smaller round stock. After knocking the smaller stock into the holes, I heated it in the forge and used my 24-ton hydraulic press to forge the pins securely into the holes.
The conical stop at the end of the handle wasn't looking quite right, so I forged it into a cylinder, also on the press. That's it—no grinding or heat treating. I think it looks better with the forge scale and rust, and it is mild steel, so no heat treatment needed.
Those Nasty Little Peasants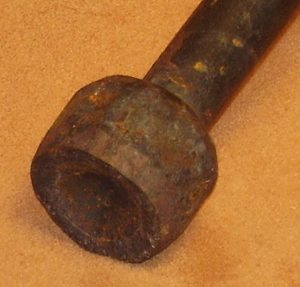 There aren't a lot of historical references to this weapon, so we'll need to speculate a bit on its place on the battlefield. What was this weapon used for? That's easy, it was used to smash. We will probably learn more if we ask who it was used on. From the mythological perspective, the tetsubo was used by oni (or Japanese demons), and they used it on everyone and everything. Simple enough—oni don't follow rules. The samurai, however, followed a code of conduct. Pretty strict rules governed what weapons a samurai could use on another samurai and how. The tetsubo would not have been allowed for honorable samurai versus samurai combat. But the samurai often fought peasants who resisted their daimyo as well as ninjas, and I'm going to speculate they weren't bound by many rules about how to fight peasants and probably none at all when it came to ninja.
Given the choice between risking damage to very expensive katana, yari, or naginata, and using the inexpensive, impossible-to-break, and easy-to-replace tetsubo, which do you think the noble samurai used on the ragged masses?
I think we can say with a high degree of certainty many an unfortunate villager died under the crushing power of the tetsubo.
An In Dis Corner… Da… Crusher!
The tetsubo pictured is 48 inches long and weighs just over 11 lb. Sam and I took it out for a test ride the day after we made it, and because he only weighed about 65 lb., I did the driving. We first headed for the front yard where an old maple was near death. I jabbed at the trunk a couple of times and took some light swings. So far, so good: just some solid thunks without as much feedback into my hands as I expected.
I tried a 360° spin and hit it harder. OK, that hurt—time to try something that would give. A 2×4 across saw horses: no significant resistance and lots of toothpicks. Concrete patio block, stone dust. Two patio blocks, even more stone dust. Red brick, no problem.
It crushes, it smashes, and it's a wrecker. But it's really heavy, and it's really hard to control. The angular momentum and centrifugal force are incredible. Once this monster is moving it isn't going to stop easily. You could let it slow on its own, but that will take a second or two. You could forcibly stop it, but when I experimented with this, I felt the connective tissue in my shoulders stretching more than I care for, so I let it spin down on its own. The last option is to let it hit whatever is in the way; if that's the intended target, fine, but what if a friendly steps in the way? Someone is gonna get hurt. If someone in your party carries this, once in a while there will be an unintended target, especially with full or multiple rotation cavern clearing swings.
Ok, I Promised…
In the comments that came after Real Steel: The Bearded Axe, I promised some cleaving, cutting, smashing pictures in the near future. I'm going to lead off that effort with some tetsubo action video, and I hope to do it soon.
It's hard to believe that this is already the sixth installment in the series. The readers and kobolds have made me feel at home here, and I appreciate it. Thank you!