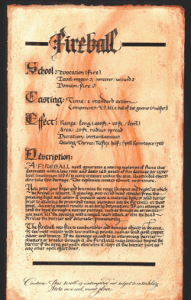 Like most gamers we love old books and scrolls and such. That's why our new Real Scrolls line — now available at DriveThruRPG — was so much fun to create. We worked with calligrapher Kathy Barker to make printable handouts that give players the sense of really holding a scroll with a spell on it. And in addition to bring decorative, they have all the info needed about the spell, compatible with Pathfinder Roleplaying Game.
You can get Real Scrolls for:
(Yes, we know there's a typo on Fireball — it says "magnus" instead of "magus." It shouldn't cause the spell to blow you and your allies up.) Scribe's error now corrected!
Let us know what you think!