Want dice? Kobold Quarterly's got them and we're literally giving them away!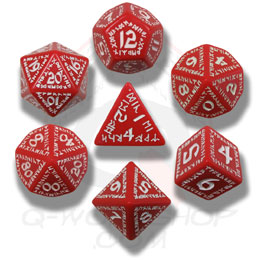 Kobold Quarterly is ready to give something back to every new subscriber: we are giving away hundreds of sets of free Q-Workshop dice. These aren't just any dice, either – they are Pathfinder, Call of Cthulhu, Elven, Runic and other dice sets that retail for over $18.
The only thing standing between you and your own set of FREE dice is a subscription to the best RPG magazine on the market, Kobold Quarterly. For as little as $16 a year you can look forward to a full year of articles on 4th Edition D&D, Pathfinder, and 3rd Edition OGL gaming!
To get your free dice, just go to the Subscription page and subscribe to the print or PDF edition – whichever format is more convenient to you. Just note that the PDF+Dice offer will require you to pay shipping on the dice. Once you subscribe, we'll send your dice pronto and start your subscription with Kobold Quarterly issue #8issue #9.
Remember: this offer is limited to the dice on hand – and when they're gone, they are GONE. So get your FREE Dice while supplies last!