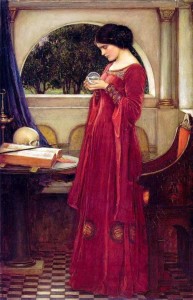 We all have times when we are knee deep in orcs and the mage sputters. A cleric swings a mean hammer, and the druid can maul somebody when they go fuzzy, but the mage and the sorcerer are often left holding the bag (of holding). But wait a second! You can do some things, you spell-shuckers, when the tap runs dry.
Just sit back with your favorite grimoire and heed some hard-earned advice.
1. Did you buy scrolls or a wand?
As a GM, this is the question you might ask the party. As a spellcasting player, this is a question you should ask yourself. A player roleplaying a spellcaster might have a few favorite spells, but there might be a lot of spells the character doesn't know, which means limited flexibility in unexpected situations. Naturally, a caster will try to apply favorite spells to every situation he or she can and then often dismiss the rest.
The limited spell selection means that players frequently have fewer spell choices than they might find optimal in any given situation that their characters might face. An easy way to correct this is to buy favorite spells as scrolls so that the spellcaster in question is never without them. That way, the most utilitarian spells are available.
2. Drop book, heft crossbow.
Often, a wizard is thought of as the sum of his or her spells—an artillery piece. This is partly true, since it takes a very lucky wizard to survive close combat. As you might expect, a spellcaster can find ranged combat to be far more survivable. A light crossbow, or a hand crossbow, is light enough to use and can help cover an ally's advance or retreat. It might not always hit, but it will likely hit harder than any other weapon a mage can have. Another good weapon is any that has a reach mechanic involved, such as a spear. This allows you to work around an ally.
Another action a spellcaster can do in combat is to flank an opponent, which allows fellow party members to hone in on enemies. Thrown weapons are also useful. The goal here is to allow your caster to start swinging at the enemy (or begin sending plenty of missiles its way) while keeping his or her head down and making sure that his or her body remains out of easy reach.
3. Run, rabbit, run!
Sometimes characters are caught in an ambush or other sudden situation, and they don't have their gear out. If the spellcaster is out of spells, he or she might not know quite what to do when allies start requiring assistance. When weapons, potions, and ammo are in short supply all around, enter the wizard and his or her familiar.
Pulling out an item can take an action of some sort, as can picking something up. Either can muddle things, since it can take multiple players with multiple actions to pass off items. When Brella the fighter needs to drink a potion but has her hands full of sword, shield, and angry goblin, potions may be a little hard to use. She would have to drop one item, search for another item, and then bring it out. That can take way too much time, especially if the fighter never organized her pack or is practically clanking with gear. May her chosen gods help her if she stowed the potions in her backpack and can't reach them!
But Reskin the wizard and his familiar can help. Reskin might need only one hand to cast his favorite spell, and he because he usually likes to lurk in the back, he has time to root around for gear. Brella can ready an action to accept something, of course, but let's take this a step further. Who says it has to be Reskin handing off the light stuff? In various rules systems, familiars can handle light items with speed and intelligence. In this case, Reskin's weasel could run up to the fighter and administer the potion, or your own wizard could send a raven out and drop a flask of alchemist's fire on the baddies. At least make sure your wizard has something handy that will help out in a pinch, such as a bag of caltrops to ward off flankers. Or maybe your familiar can hold the torch so everyone can see. By freeing up the hands of those in your party, you're ensuring your own wizard's survival.
4. Use your head.
Often, wits can be used to your team's advantage. A mage and a sorcerer have skills beyond simple magic. In fact, it is often their skills that most wizards ignore. If your wizard Saul sees crumbling masonry over an enemy, he will likely have the knowledge of how to make that an effective weapon, given his skills. Your sorcerer Lissa, on the other hand, can make such an impression with her charisma that your group doesn't necessarily need to fight or even use that bit of crumbling masonry that Saul would be tempted to use. Either way you can help your party achieve its goal.
Your character's ability to use skills can also serve less direct forms of problem solving. A wizard without a spellbook can still read and can solve clues for the party. Sorcerers without sleep can still impress locals. Keep in mind, as you roleplay, that your imagination can help you apply your character's skills and abilities to something, and that will help your spellcaster (and his or her party) brave the darkest dungeons.