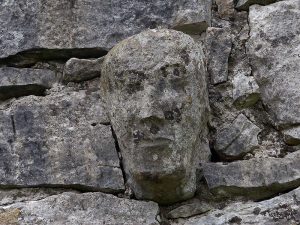 "Encounter Codex" presents individual encounters that can be quickly slotted into any adventure. They are system neutral and easily adapted to any edition (and other games for that matter) with little effort—just add stats.
___
A narrow catacomb stretches toward a T-intersection roughly 20 paces ahead. The jaw and limbs of a four-armed gargoyle statue peek out from the darkness of the left corridor. The repetitive pinging of iron against stone echoes from the passageway to the right. Chunks of debris litter the uneven floor, saturating the air with the musk of ancient masonry.
Dungeoneers reaching the intersection find that the passageway to the left is merely an alcove in which a large, lime-stained statue of a gargoyle stands. Dried blood and pieces of broken stone lie strewn about its base. Close inspection of the detritus reveals that it is the shattered remains of petrified dungeoneers—arms, legs, shoulders, torsos, and one complete head…
The corridor to the right leads 40 ft. toward a stone door reinforced with spiked bands. Dozens of wrought iron spears thrust across the hallway from holes in the walls at erratic intervals, chipping long scars into the opposite stonework. Dungeoneers with particularly good vision notice poison on the spears.
A creature entering or starting its turn in the hall is attacked by the spears. The trap deals only modest damage although the poison it delivers is highly lethal.
When the dungeoneers enter the gargoyle's line of sight, it speaks in a guttural voice: "Only the hallowed dead may pass through the maw of teeth."
To move through the gauntlet of spears safely, the dungeoneers must convince the gargoyle that they are, in fact, undead. This might be accomplished in a number of ways:
Casting a spell or ritual that causes undead or other creatures to perceive you as undead.
Demonstrating superior or intimate knowledge of the undead and their habits.
Expert bluffing or disguising.
Being undead.
If the dungeoneers convince the gargoyle that each member of the party is undead, it will beckon them to pass through the "maw," breathing a thick cloud of green gas upon them. Those who fail or choose not to resist are affected as if by a stoneskin spell for 1 minute, with the additional benefit of being rendered immune to the poison.
If the gargoyle is threatened or if attempts to deceive or confuse it fail, it will breathe a cloud of dark grey gas upon the party; those who fail to resist the gas are petrified. The gargoyle then animates and attacks, fighting until slain. It will not pursue the party into other chambers.
Award the players experience points for earning the gargoyle's boon or defeating it in combat—whichever occurs.