The response to the free dice giveaway has started very strong! Almost 100 sets of the 500 we have are gone, and we expect more orders to pile up while Wolfgang is away at NorWesCon this weekend.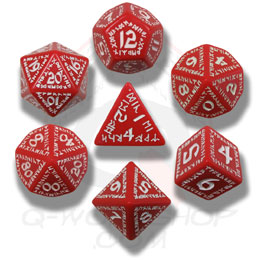 Kobold Quarterly is spending April giving away hundreds of sets of free Q-Workshop dice to new subscribers, and also to the generous souls behind gift subscriptions and adopt-a-soldier sponsorships. These are those snazzy Pathfinder, Call of Cthulhu, Elven, and Runic dice sets that retail for over $18. Some glow in the dark!
To get your free dice, visit the Subscription page and subscribe to the print or PDF edition – whichever you prefer. Once you subscribe, we'll send your dice pronto and start your subscription with Kobold Quarterly issue #9.
As before, this offer is limited to the dice on hand – and when they're gone, they are GONE. So get your FREE Dice before we give them all away.
Just promise us you'll provide a loving home, and give them frequent spins around the table!