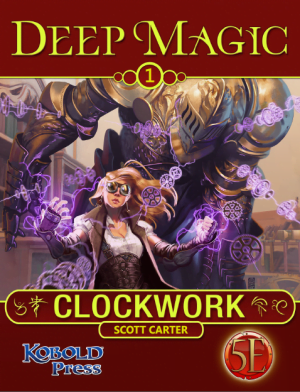 I got my goggles. And my hat. And my boom-clanking automaton. And…
I got my Deep Magic: Clockwork, the just released magical tome that whirs and sparks when you dive inside. It's now available in the Kobold store.
When the Great Machine talks, great machinists need to listen. This book reveals new options for clerics, wizards, and warlocks in 5th Edition. Now, you get to be the golem.
Are you steamed at the lack of timely new spells? Never spin your wheels again with indecision! No need to come in second. Just grease the wheels of your game with some well-timed spells in this up-to-the-minute compendium. Grind through monsters. Synchronize with your companions. Whir and… uh… oscillate—maybe?—with delight in the treasures you'll win.
You're gonna get all wound up over this!