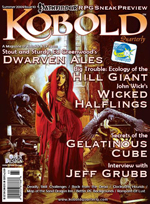 The big 1-0! Double digits! Kobold has gone into the decile universe!
Kobold Quarterly hits the big Roman numeral X with our Summer issue, which features so much good stuff that Qeeg and Jiro just about had a hernia carrying all those boxes to the store:
* A Sneak Preview of the Pathfinder RPG by Jason Buhlman
* the full Pathfinder RPG Shadowdancer class
* Ed Greenwood's Dwarven Goddess
* Ecology of the Hill Giant
* Wicked Fantasy: the Haffun
* Secrets of the Halberd
* Monte Cook's Game Theories
* Rampant Elf Lust
* And so much more!
This issue is packed with great material for any edition of the world's most popular roleplaying game — and KQ is nominated for three — count 'em — three ENnie Awards this year!
This is an issue you don't want to miss; pick it up today.