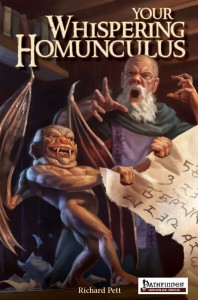 Curse that Whispering Homunculus! Yesterday he took over Kobold World Headquarters and wreaked all sorts of havoc online. We finally got control back, only to find out today that while the Homunculus was in charge, he used the Kobold presses to publish his own book.
Yes, you can now buy Your Whispering Homunculus in the Kobold Store. This wretched tome inflicts more than 160 pages of the vile, whimsical, disgusting, bizarre, horrific, odd, skin-crawling, and mildly disturbed side of fantasy gaming upon the world.
Apparently the Homunculus forced author Richard Pett to participate in his foul project. We phoned Richard in the UK when we learned what had happened. Sobbing inconsolably, he told us some of what's in the book…
Unsettling Moments and Strange Entertainments
Pointless Objects and Mangled Monsters
Trog-Kin and Troll-Touched
Daft Bets and Dismaying Delicacies
The Curious Contents of Dungeon Toilets
And, tragically, so much more.
We know you wouldn't unleash anything this twisted on your players, right? But if you must, buy Your Whispering Homunculus today in the Kobold Store!