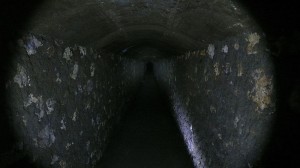 The deception of a trap lies in the perception. Trapsmiths control the environment, and you see only what they want you to see. It could very well be that the obvious solution to the problem or obstacle that you perceive is what will be your downfall.
"A gaping hole opens up in the dungeon floor ahead."
The uncovered pit trap is 40 ft. deep and 10 ft. across. Anyone coming within 5 ft. of the edges must make a DC 20 Reflex save or fall in.
Uncovered Pit Trap    CR 2
Type mechanical; Perception DC 10; Disable Device DC 20
Trigger location; Reset none
Effect 40-ft.-deep pit (4d6 falling damage); DC 20 Reflex avoids; multiple targets (all targets within 5 feet of the pit)
Climbing down and up again is a way to defeat the trap; doing so requires several DC 20 Climb checks. Jumping over is also a possibility but that requires that the PCs make a 20-ft. jump so that they clear the edges of the pit. This requires a DC 20 Acrobatics check.
Those who succeed in defeating the trap deserve a reward: Reaching the other side of the trap could trigger a hydraulic push trap, which might be enough to nudge them over the edge.
Hydraulic Push Trap    CR 3
Type magical; Perception DC 26; Disable Device DC 26
Trigger proximity (alarm); Reset automatic
Effect spell effect (hydraulic push)
If the PCs defeat the mundane version of a pit trap, then it might be interesting to see how they handle the magical version. Wily trapsmiths often place this trap directly behind an obstacle trap such as a mundane pit trap.
Create Pit Trap    CR 3
Type magical; Perception DC 27; Disable Device DC 27
Trigger location; Reset manual
Effect spell effect (create pit) a DC 13 Reflex save avoids falling 30 ft. into the pit. A fall deals 3d6 damage.
There are pits and then there are pits. The hungry pit trap has devoured many an adventurer.
Hungry Pit Trap   CR 6
Type magical; Perception DC 30; Disable Device DC 30
Trigger location; Reset manual
Effect spell effect (hungry pit) a DC 17 Reflex save avoids falling 50 ft. into the pit. A fall deals 5d6 damage. Those falling victim to the hungry pit are dealt 4d6 bludgeoning damage while they remain in the hungry pit. A successful DC 17 Reflex save halves this damage.