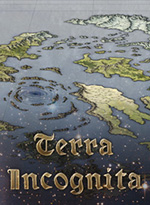 One of Open Design's favorite cartographers wrote recently to let us know about an event he's putting together — an art show for fantasy maps!
Says Roberts, "I'm pulling in professional fantasy cartographers and very talented amateurs and I'll be showing my own work as part of the show." Readers will remember his work from Sunken Empires, Halls of the Mountain King, and other projects.
You can see work by Jonathan Roberts and other cartographers July 16th-29th at the Soho Gallery for Digital Art, and prints will be available. Stop by and drink a toast to the cartographers!