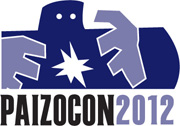 The kobolds are scurrying with their final preparations, and it's going to be quite a big show this year, new hotel, lots of things to show, and LOTS of Midgard games run by some truly talented DMs. Here's the details for the PaizoCon Kobold extravaganza.
Friday
RPG Freelancing 101 (Event #13530)
8 AM, Robert Hughes Room
Speaker: Christina Stiles
Come talk with established and emerging RPG freelancers about what it takes to break into print, in venues like Kobold Quarterly, Open Design, and other markets.
Meet the KQ Minions! (Event #13529)
9 AM, Robert Hughes Room
Speakers: Christina Stiles, Wade Rockett, et al.
Ever wonder what's keeping a small publishing company like KQ or the Open Design community running smoothly? Minions are the answer! Come meet several of the KQ minions and hear how they do it!
Afternoon
Everything You Don't Need to Know about the RPG Industry (Event #13532)
1 PM, Robert Hughes Room
Speaker: Wolfgang Baur
What was the dress code at TSR? What was playtesting like for 2E? Why did Gary make that table? All this & less will be revealed at our sekrit panel seminar! Expect nothing & be pleasantly surprised! A lighthearted panel about the less serious and more human side of the RPG field.
5 PM, Kobold Meetup
A meetup for freelancers and Open Design patrons by invitation. One of a spectacular series of improvisations that usually begins with the magical invocation: "What do you mean, they don't take reservations?"
Saturday
How to Power-Up Your DM Descriptions (Event #13533)
Saturday, 9 AM, Robert Hughes Room
Speaker: Wolfgang Baur
Have you wanted to make your writing and DMing more evocative, with better descriptions and more engaging dialogue? Do you want to avoid that dreaded "purple prose" that bores players? Sit down with Wolfgang Baur as he draws on decades of RPG experience to discuss how to talk about more with less, at the table or on the page.
Homebrewing 101: How to Quickly Improve Your Game World (Event #13534)
10 AM, Robert Hughes Room
Speakers: Wolfgang Baur, Adam Daigle, Adam Roy
One of the great joys of RPGs is worldbuilding and setting design, creating villains and nations and gods. This practical seminar offers tips and tricks you can use to impress your players and improve your homebrew world, with examples drawn from Wolfgang's published settings and his home game.
Publishing a Professional Pathfinder RPG–Compatible Campaign (Event #13531)
Noon PM, Robert Hughes Room
Speaker: Wolfgang Baur, Jeff Grubb, Christina Stiles, Brandon Hodge
Come talk about how Open Design went about building and publishing the Midgard campaign setting in just 6 short years. A discussion of creative collaboration, how a shared world really works, egos, deadlines, compromises, benevolent dictatorship, and the fun and messy business of building the Midgard campaign setting from notebook to hardcover.
Secrets of TSR (Event #13573)
Saturday, 3 PM, Board Room
Speakers: Wolfgang Baur, Dave Gross, Pierce Watters
Join TSR veterans Pierce Watters, Wolfgang Baur, and more as they answer questions and spin tales about what it was like to work in the mothership of gaming back in the earlier years of the RPG hobby.
Rise of the Runelords 5th Anniversary Round Table
Saturday 4 PM-6 PM, Board Room
Speakers: James Jacobs, Erik Mona, F. Wesley Schneider, Richard Pett, Nicolas Logue, Wolfgang Baur, Stephen Greer, Greg A. Vaughan, Sarah Robinson, Wayne Reynolds
The very first Pathfinder Adventure Path returned in a revised and collected hardcover edition this summer. Join Paizo Publisher Erik Mona, Creative Director James Jacobs, Editor-in-Chief F. Wesley Schneider, cover artist Wayne Reynolds, Senior Art Director Sarah Robinson, and authors Richard Pett, Nicolas, Wolfgang Baur, Stephen Greer, and Greg A. Vaughan as they reveal the secret history of the Pathfinder Adventure Path that started it all.
Sunday
Sunday is for recovery, and more gaming, and saying goodbyes (until next year!) to new and old friends. We hope you join us at the show!