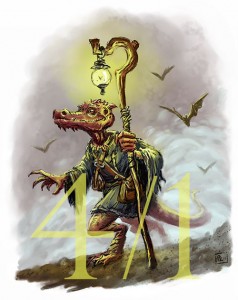 The quirky kobolds have been busy at work of late, and they're eager to let you in on their upcoming prized offerings.
So, what have we all been doing in the kobold warrens?
Kobold Summer Camp: The Ultimate Kobold Experience
Coming Soon™ to a location hidden from stupid humans, the Kobold Summer Camp will provide all comers with a rewarding experience that will both Grow and Nurture™ your inner AND outer kobold. Among our many activities, we offer Scenic Warren Hikes, Trapbuilding 101, Dragon Egg Stealing, and other standard fare.
Not a kobold? Not a problem! What's Trapbuilding 101 without test subjects, amiright?
But what really makes Kobold Summer Camp stand apart from all the OTHER summer camps? Why, the valuable kobold skills it teaches! Including:
Making bullet lists of features
Ordering your bullet lists: what to put in the middle?
15 tips for using numbers in your bullet lists
Remembering not to leave out the 'k' in the URL for the Midgard Campaign Setting
Care and feeding of dire weasels, with our resident expert Lefty One-Hand
9 uses for a severed extremity
When to give up listing things and hand-wave the rest
And much more!
Sign up to become a happy kobold camper today, by leaving a comment here!