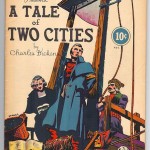 KQ regular Marc Radle had a good idea and made it real: there's now a series of reader polls up to choose everyone's favorite articles from the first 14 issues of KQ, plus a thread to nominate your favorite web articles. I hope you'll stop in and vote for your favorites.
The idea is that we might pull together a PDF of the best print and possibly also the best web content, and make it easy for people to pick up a collection of the best from our first two or three years, or give a copy to friends who might not otherwise check it out, despite the string of awards, favorable reviews, growing circulation and general ass-kicking that goes on here on a daily basis. Sometimes ya just gotta show people before they understand.
What do you think? Good idea, or great idea? Or do we take it out back and feed it to the weasels?