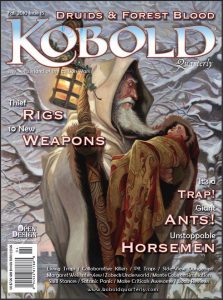 Sometimes, editors change their minds for silly reasons. This time, it was for a good reason — we got lucky with a new cover, and it's a looker.
Those of you who examine the "Coming Next Issue" art might hve noticed that Kobold Quarterly #15 doesn't sport the art found in issue #14. But the new cover by William O'Connor — entitled "Merlin and Arthur" — was just too good to pass up. It's a terrific painting by any measure, with hints of the druids within the issue, with details in the swaddling clothes and hidden symbolism. I hope you like it as much as I do, though I confess I compulsively read and re-read a modernized King Arthur collection throughout 6th grade. Knights rule.
The contents of the issue are just as amazing as the cover: druids, knights, traps, and a surprise interview.
The issue contains a remarkable collection of playable material and (we hope) some truly useful tools for your game:
side-scrolling dungeons,
expanded rules for mounted combat,
3 new druid base classes for Pathfinder RPG,
an ecology of the giant ant (!)
and a peek at the Black Chamber of the Cartways, the dungeons below Zobeck.
I hope you pick up the PDF edition or the print version as suits your fancy. I couldn't be happier to welcome in the holiday season!
So tell me, what do you think of the new issue?