What do you buy the gamer who already has everything? Give them a Kobold Press gift certificate and be the hero they deserve! Our gift certificates come in lots of denominations, and our variety of products are sure to make your gamer's day!
How to Send: 
Add the gift certificate amount to your cart.
After you click "proceed to checkout", you will see an option to include the desired recipient's email address (scroll down to see it).

Select the "gift to someone else option", and enter the email address of the desired recipient. You can also enter a message that will be included in the email they receive.

Note: The gift certificate is linked to the recipient's email you enter on this screen. Therefore, you need to ensure the recipient uses this email address for their Kobold Press Store account. If they do not have a Kobold Press Store account, they can create one with the email used and it allows them to redeem the gift certificate.Further, the gift certificate recipient will receive an option to use the gift certificate at checkout. They don't have to use it all at once—the store will keep track of how much they have spent until the balance is zero.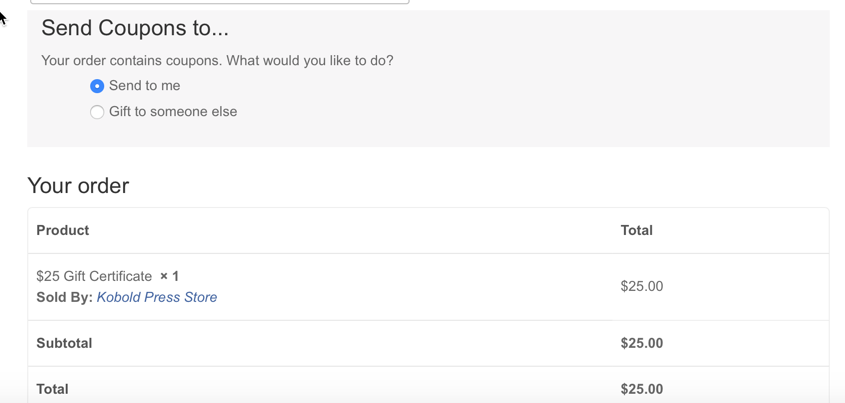 After you complete the purchase, an email will be sent to the recipient with a coupon code good for any purchase on the Kobold Press Store. The email will originate from [email protected].  Once you purchase a coupon for someone, the recipient can find that coupon under their store account at: https://koboldpress.com/kpstore/my-account/kp-coupons/
.