Celebrate Kobold Press's Sweet Sixteen!
Huzzah! The warrens are decorated with strings of shinies, a massive pop-out cake has been ordered for Jiro, and our kazoo chorus is practicing in earnest for the Kobold Press Sweet Sixteen!
That's right, Kobold Press is turning 16-years-old this year. We haven't sorted out who is going to be our prom date yet, but we have streams, a webinar, and lots of goodies on sale for everyone!
WEBINAR
Learn the ins and outs of homebrewing for 5e from Kobold Press designers Jon Sawatsky and Sebastian Rombach! This webinar is free and will be hosted in our Facebook group, Jiro's Kobold Press Official Group (TM). We'll see you on March 24th at 4:00 PM PT!
SALE
Get 20% off everything in the Kobold Press store from Monday, March 14, to Sunday, March 20, except for pre-orders, VTT licenses, and Warlock Lairs: Into the Wilds.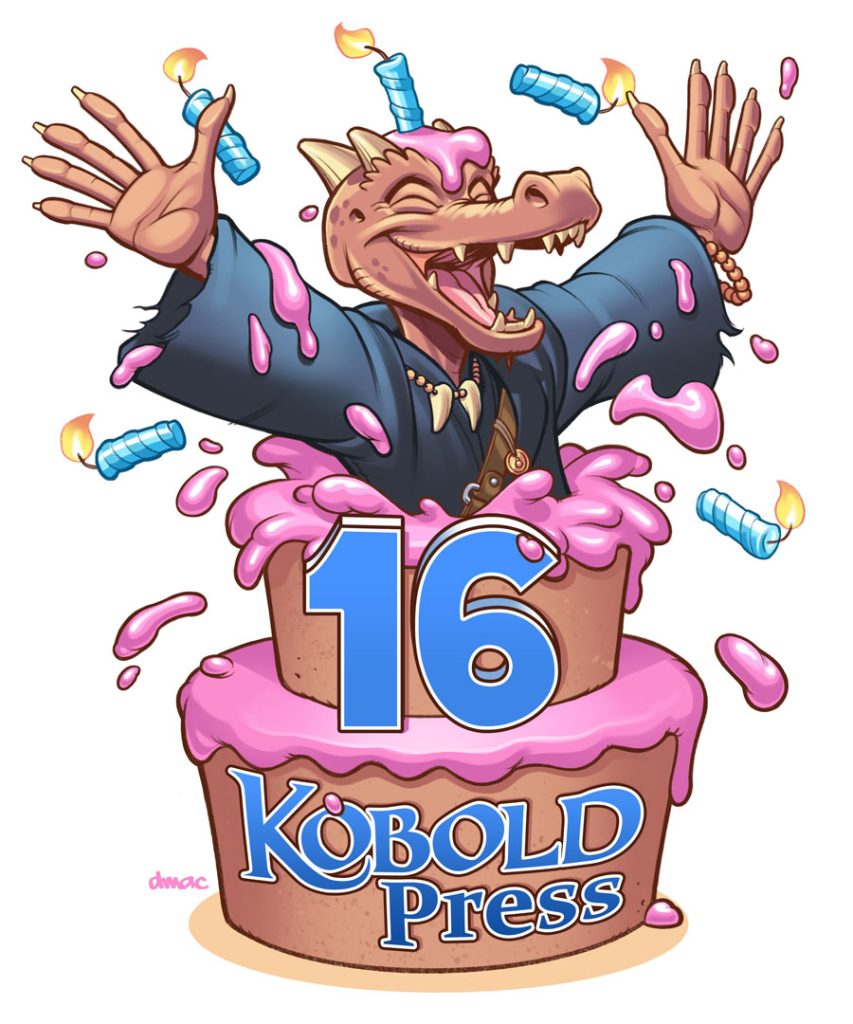 Add over 900 magic items into your 5e games. From mirrors to masks, edibles to earrings, and lanterns to lockets, this book has something for every campaign, including items by Deborah Ann Woll, Patrick Rothfuss, Luke Gygax, Gail Simone, and many more!
With over 400 monsters, you'll find foes for every location your heroes might explore in 5e: from farmlands to forests, dungeons to deserts, and bustling cities to fantastical planar realms—with an emphasis on dungeons and the underworld!
A classic-style adventure for 10 levels of play and fully compatible with 5e, Scarlet Citadel is the perfect campaign for those who want to scratch the dungeon-delving itch. Are you brave enough to descend into the depths?
STREAMING
Join us on our birthday, March 20th, for sixteen hours of streaming! We'll be taking a look at some of our highlights from the past year.
| Event Time | Streaming Program |
| --- | --- |
| 7:00am PT | Kobold Guide to Monsters & How to Design a Monster: Learning Series |
| 8:00am PT | Luke Gygax Interview – Tome of Beasts 3 |
| 9:00am PT | Thrones and Bones – Premiere – Actual Play Live |
| 12:00pm PT | Inbar's Guide to Northlands Reading & Richard Green, Brandon Hodge, & Richard Pett Talk Kobold Press |
| 1:00pm PT | Courts of the Shadow Fey: Gifts of the Queen – Rebroadcast |
| 3:00pm PT | Deborah Ann Woll & Celeste Conowitch Talk Vault of Magic |
| 4:00pm PT | Vault of Magic – Spooktacular One-Shot |
| 7:00pm PT | PaxU 2021 – Live Panel: Worldbuilding 101 |
| 8:00pm PT | The Rotting Heart – Margreve – Actual Play Live |
| 11:00pm PT | Kazoo Hullabaloo with Kobolds of past and present (15th Anniversary Replay) |
| 11:30pm PT | End |